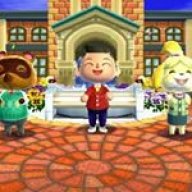 Active Member
OP
Newcomer
Hey guys,
Now as the title states, I am having trouble moving one of my NONMAYORAL characters to another free town that has no one in it. I am following the right instructions but it gets stuck at "Connecting. Cancel by pressing B." and the 3DS handheld systems don't find each other.
Info:
both 3DS's have rxTools running emuNAND.
both ACNL games are on emuNAND (not cartridges)
the 3DS with my character that needs to be moved has a mayor and a nonmayor character. It is a normal 3DS EU.
the 3DS that I want to move my character into is a normal 3DSXL US.
If anyone has experienced this problem or has a solution please comment.
Thanks!! <3