Joined

May 6, 2009
Messages

18,148
Trophies

0
Age

28
Location
XP
Country
Just finished up the game and I must say it's definitely worth a review.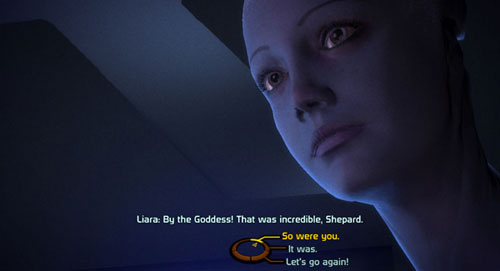 Mass Effect is one of those rare games that you'll only find once a decade. It's a game you'll remember and think about for just about as long as you play it. It's also one of those games that's thoroughly great but is bogged down by small, silly issues that feel as though they could have been cut from the final product, but were pawned off as "minor". In the end though, the game may not be for everyone and it is full of small holes, but once you get the ball rolling in the game, it's a game that you'll love and cherish.
Mass Effect, for starters, uses a completely original universe, unlike some of BioWare's past games (such as Star Wars: Knights of the Old Republic, which obviously uses Star Wars, and Baldur's Gate, which uses Forgotten Realms). The story place in the year 2183, 35 years after humanity discovers an ancient but highly advanced artifact on Mars from a race long since extinct. The artifact's technology leaps humankind forward technologically, expanding them throughout the universe and establishing relations with alien species. As humans struggle to find their voice in this intergalactic "boy's club" of aliens, Commander Sheppard is sent to investigate a human colony where new technology has been unearthed. Sheppard soon uncovers a plot to bring back an ancient threat that has destroyed organic life thousands upon thousands of years ago. The plot is deep and gripping, with a great original setting and memorable cast. As I said before, it's something that will keep you thinking after all is said and done. There are a fair amount of small issues though, mainly involving frequent, abrupt loads and long elevator rides. I mean, it's around 170 years in the future, you'd think they could make elevators that get you from floor 1 to 2 in less than 10 seconds. But they can't. Really though, as I said, they're just small holes.
The gameplay in Mass Effect differs much from your standard RPG outings and is divided into two real parts: action and dialgoue. The action is essentially a third person shooter with huge amounts of RPG aspects. When in combat, you can choose and switch between 4 different weapons (an assault rifle, shotgun, pistol, and sniper rifle), all of which are upgradeable and all of which have different pros and cons. You also have a selection of special moves to choose from that very from increasing the amount of shots needed to overheat your gun to boosting your shields in-combat. You'll also have two different party members with you, whom you choose before leaving the ship. While shooting works well, the main focus is the RPG aspects, which are very expansive to say the least. You can upgrade a variety of stats to your choosing, each of which having specific affects. Boosting your Assault Rifle levels will give you more assault rifle skills and mastery. Upgrading your Spectre stat (which you'll earn shortly after you start) will increase most of your overall power. The list goes on and on. As for the shooting itself, you can take cover behind objects and do some minor zooming with all weapons (outside of the sniper, which of course uses a scope). The cover mechanics aren't anything nearly as large as say Gears of War, but they work well enough. The cover system could just be a little easier, though. The main problem with the combat is the weak AI. They're good enough for blowing up most easy baddies, but when it comes down to it, they're dumb. Many times they'll stand in the middle of gun fire and shoot, they help out you or another ally if you/they are in trouble, and they just won't use common sense. The other big part of the game, dialogue, is basically a morality system. If you played Star Wars: KOTOR on the original Xbox or PC (and if you haven't, you should, it's a fantastic game), you'll know what I mean. In KOTOR, most conversations had various paths to take. Usually it was either a more peaceful, logical path that followed something a Jedi would do, a neutral path that was neither as enlightened as a Jedi or as reckless as a Sith, and a darker, more violent path that a Sith would take. In KOTOR as well, these conversations would drastically alter the story and your character's alignment with the dark or light side of the force, changing the effectiveness of your powers. Well, in Mass Effect, they incorporate a similar system, although it doesn't have the same combat implications as it did in KOTOR. Most of these choices are basically whether you want to be noble, want to be neutral, or want to be a dick. In the beginning, the dialogue is simply that, with no major ramifications. If you act like a complete douche, so what, people will think you're a douche. But eventually, as the story grows, the dialogue and choices become much deeper, from responding to a crew member who has killed an unarmed convict to choosing between the life and death of crewmates. And a lot of these major decisions fall in a gray area. There's no obviously nice or obviously dick answer, both sides have equally good points. And these major decisions affect the entire outcome of the game. There's many different paths to take, many choices, and a lot of choices to make. The game does have some tediously long dialogue though, and often times it's usually kinda pointless. But you have to listen to it all, answer it all, and make decisions time after time. Depending on whether you can stand or like text-heavy games will really determine how you feel about the game. Overall though, while it does have weak points, the overall mechanics are deep, the controls are solid, and the dialogue decisions are great.
As for graphics and audio, they're relatively good. First off, the audio is fantastic. The soundtrack is a great, fitting the moods and evolving as the game progresses. The voice acting is top-notch, although it may seem a little awkward mainly due to pauses in dialogue (since they have to wait for you to choose a decision). The graphics, however, are a mixed bag. On one hand, when the game looks great, it looks great. Character models, environments, and lighting effects are phenomenal. On the other hand, the framerate can get inconsistent and choppy and the environments don't render as fast as you move (and really, you don't jog all that fast in game). The animations can seem a little stiff during dialogue, though.
Overall, Mass Effect is a game with little problems here and there, but given time, you'll find the game deep, gripping, and one of the finest games you've play in a long time.
Presentation
: A great, original setting, with a gripping plot and great characters. It's something you'll be thinking about long after you've beaten the game. Menu navigation on-the-fly, such as switching weapons and choosing abilities, is a breeze, but some other menus, such as choosing upgrades and the galaxy map, can be a little tedious to navigate. Random and abrupt loads and lengthy elevator rides are annoying.
9/10
Graphics
: Superb environments, character models, and lighting effects are pitted against slowdowns and rendering loads. The game looks great when it looks great, but that doesn't come without a price. Cutscenes are fantastic looking.
8.5/10
Audio
: An utterly fantastic soundtrack that fits the mood perfectly. The song in the ending credits is really good too. The voice work is some of the best, although lines can be a little awkward due to the whole dialogue system.
9.5/10
Gameplay
: The RPG aspects are fantastic, with tons of depth, customization, upgrades, and stats. The shooting is pretty good, although the cover system could be improved. Team AI is weak though. Dialogue can be a little annoying with mundane decisions, but when it comes down to the major plot points, the decision system is great and makes major impacts on the progress of the whole game (as well as the next one).
9/10
Lasting Appeal
: I beat the game on the easiest difficulty with very minor sidequesting in about 13 hours. With all the sidequests, the game time can be much, much longer. Not to mention that you'll be playing through it a lot just to see what how different decisions can affect your game as well as experiment with your stats and team. Achievement whores will need to play through the game several times for the achievements. It would work well with co-op or even a versus mode, but there is none. It's still something you'll play time and time again.
9.5/10
Overall:
9.3/10
Discuss! Now I need to buy the second one and review that!