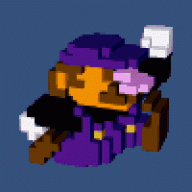 Joined

Mar 22, 2008
Messages

3,452
Trophies

0
Location
Website
XP
Country
Hey there, this is a save file I created using codes to have every released DLC item. There are two files, 'Hero' and 'Eight'. Hero is my own file from launch, where I collected *some* of the DLC items. This save file has never been touched by NTR codes, but it doesn't have every item.
Eight is the main file, this save file was made with an 'All items' and 'Toss all key items' code. It gave the file 99 of every item, including key items. I then sold all key items (having the toss code enabled) and all other items, except 1 of each DLC item. The end result is a minimal amount of money, the starting amount, no extra items (except DLC) and as close as I could to keeping it in tact as it was before.
I haven't tested beyond the first town, so I'm not sure if prematurely having certain key items in the inventory may have messed up some flags. Ultimately, this save file is untested and once I've gotten around to progressing in the game to test I'll update this bit.
If you don't like the names being super boring and default, I have a solution to that problem too! Open honeySave.bin in any hex editor and scroll down until you see "H.e.r.o." or "E.i.g.h.t.". This is the name for slot 1 and slot 2 respectively. If you edit these letters in the hex editor, you can change the name of the hero! Keep the same syntax (So E.i.g.h.t" becomes "G.u.v", note the dots in between letters) and be sure to stick to a maximum of 8 characters and you'll be good to go!
I hope this can help anyone wanting to jump into this game, but disappointed SquareEnix dropped distribution support for it so quickly. Maybe one day we can put together a solution for DQ7's tablets too.
I hope making a thread about this doesn't infringe on any rules, I just wanted to make some awareness for this as some people may be interested and I didn't want this thread to be swept under the mass uploads to the download center.
Thanks
https://gbatemp.net/download/dragon-quest-8-dlc-items-starter-save.35113/