Product Information:
Release Date (NA): January 20, 2022
Release Date (EU): January 20, 2022
Release Date (JP): January 20, 2022
Publisher:

Dread XP

Developer: Akabaka
Genres:

Horror, Comedy, Dating Simulator
Game Features:
Love can be a scary thing.
Love stories are hard to tell nowadays. Not only have people been telling love stories for eons, but we're bombarded with them constantly; even if it's not the main focus, it seems like nearly every Hollywood movie has a love story shoehorned in somewhere. They're just white noise at this point. One of the few spins on it that can cut through the noise are stories about people falling for someone who at first seems bad for them, someone who might even be dangerous. These situations usually have a strong foundation to their conflict that's inherent to the relationship, which makes it interesting to navigate. The paradoxical pursuit of someone dangerous makes the relationship feel unique and worth exploring. And most importantly, to help emphasize the mismatch, there'll be a lot of importance placed on how this relationship changes those involved, which makes it easier to understand their attraction and get invested in whether or not it works out.
All this is to say that Sucker for Love: First Date, an anime dating sim visual novel about dating Cthulhu, is one of the most interesting takes on a love story in a long time. First Date is an expanded remake of a minigame in the horror anthology collection Dread X Collection II, and though it's one of the most memorable entries in the collection, it doesn't stand out as one that could be easily expanded. (For those interested in demoing the game, you can download the minigame on its own for free here.) The first game, which is more or less recreated here as the first chapter, deals with a man who sees an Eldritch abomination in his dreams and becomes obsessed with it, working to summon his new deity...so that he can kiss it. It's a funny premise, with the Outer God, Ln'eta, acting as some confused mix of an anime girl and a Lovecraftian nightmare. That contradiction is the entire joke of the first chapter, that she's immediately in control of the situation and ready to shatter reality on a whim, yet still gets flustered when you try to kiss her.
Yet the second chapter finds a real character in her. Don't get me wrong, she's a stereotype, but, well, she's actually two opposing stereotypes, and the character work done to reconcile that contradiction makes her come to life. She's still a Great Old One, indifferent to humanity's suffering, but she also cares about the player character. I think most people, at one time or another, have felt disillusioned with people as a whole, even while caring for individuals, so it's easy to identify with that, and, really, how could she not end up caring about this guy who not only sold out his reality to meet her, but mutilates himself in ritualistic sacrifice? Of course, while her love can be genuinely sweet, it never feels disconnected from who she is by also being creepy, possessive, and threatening. It's also hard to overstate the heavy lifting done by Michaela Laws, Ln'eta's voice actor. Laws' performance perfectly captures both sides of Ln'eta, oscillating between sickly sweet and coolly detached, or even straddling that line when Ln'eta's motives are murkier. A good performance can go a long way in bringing out the humanity of a character, and, improbably, I sympathized with Ln'eta and understood her perspective (as much as a human can understand anything about an Outer God without going insane, anyway). 
That authenticity helps Sucker for Love find its comedy-horror tone. While it's primarily a comedy, its comedy is always deeply rooted in this world and this premise. Every joke feels like it could only work in this game, so the jokes (unlike Ln'eta) never break the reality of this world; they actually enhance it. So when the tone shifts from comedy to horror, it doesn't feel jarring, since both are just as true to this world. While the game isn't ever exactly scary, there are tense moments, particularly on the third route, and some of the imagery is definitely disturbing. It also largely succeeds as a comedy, with some outrageous concepts and clever dialogue. Some ideas feel underdeveloped, however. Notably, the promise of a sitcom-style situation where you also try to serve Ln'eta's sister, forcing you to switch between Necronomicons and hide different self-mutilations to keep one from discovering the other, ends up fairly linear and straightforward, not capitalizing on its potential for both manic, wacky comedy and terrifying dread at what would happen if they discovered each other.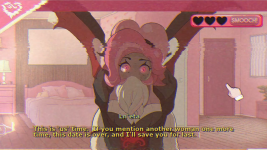 But still, that's kind of the most impressive thing about Sucker for Love: First Date. It takes a premise that, while funny, feels a little thin, and manages to mine some terrific content from it, and even leaves enough on the table to the point that I'm still left wanting more.
Verdict
What We Liked ...
Interesting, unique premise
Terrific vocal performances
Succeeds as both a comedy and a horror
What We Didn't Like ...
Some ideas feel underdeveloped
8
Gameplay
Being a visual novel, there isn't a ton of real gameplay to speak of, but there are lots of appreciated quality of life touches that make exploring the story easier, and there are some fun secrets to find along the way. The final route also has some intense moments that lean a little heavier into the gameplay than the first two.
8
Presentation
The music and art are completely on point. Everything is seen through this '90s anime filter that adds a lot to the mood, and the music is as smooth as the rest of the game at transitioning between cute dating sim and Lovecraftian horror.
8
Lasting Appeal
Running about 3 or 4 hours, there's a lot to do here and little risk of it outstaying its welcome. It's paced very well, and the convenient checkpoint and flowchart system means you won't be wasting any of the time you spend with it.
Overall
Sucker for Love: First Date is an impressive visual novel that ably balances its horror and comedy, providing a unique take on the Cthulhu mythos you're unlikely to see anywhere else.