Owing its namesake to the traditional Japanese sword, Creative's Sound BlasterX Katana cuts through the audio industry to make its way as "the world's first true Under Monitor Audio System". How deep does it cut?
With a sleek and slim profile, Creative's soundbar, the Sound BlasterX Katana, almost goes unnoticed at first glance. However, as far as dedicated PC soundbars go, these peripherals are quite rare, and the Katana is sure to pique one's interest.
Akin to the craftsmanship required in producing the Japanese Sword it borrows its name from, the Sound BlasterX Katana has also been carefully crafted to appeal both with its aesthetic and performance. The chassis' brushed aluminum finish gives it a classy, premium look that revamps my desk's appearance just by lying on it. Its robust build hampers vibrations that you might be familiar with in other audio devices, leading to a distorted audio output.
More than the looks, this soundbar does not compromise on the audio quality. Housing not one, nor two, but a 5-driver design (two up-firing midbass drivers and two high-excursion tweeters in the soundbar, and one long-throw driver in its subwoofer), the Sound BlasterX Katana delivers sound quality really emulating cinematic ones atop your PC desk. 
This is thanks to the driver designed to be individually chambered and powered by a DSP-controlled amplifier that produces faithful audio output. The positioning of the outlets also play a role in the experience that the Sound BlasterX Katana offers as well. The two upwards-facing midbass drivers and two front-facing tweeters cover a wider soundstage and provide a seamless experience, without requiring a sweet spot.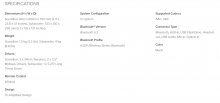 Specs sheet attached for further details
The bass reverberating through the subwoofer amplifies the overall experience, even if it's rather average. Regarding the subwoofer, my issue is that it is quite space-consuming (especially compared to the soundbar) and requires a wired connection to the sound bar. A wireless, Bluetooth pairing would have gone a long way to really minimize the Sound BlasterX Katana's footprint.
Additionally, the two stands' positioning tilt the peripheral slightly upwards, directing the sound towards you, rather than level to the desk's surface, giving a fuller audio output that reaches your ears.
It also helps that the Katana was designed to be used at close quarters to the user. Being marketed as a self-explanatory Under Monitor Audio System, you're more likely to be a few centimeters away from your monitor rather than a couple of meters from it. Hence, using the audio peripheral results in an up-close experience where you can better hear the subtle auditory cues which would be harder to discern from a distance as in the living room.
Nevertheless, the Katana could still find its way into the living room, with its optical and 3.5mm ports but an HDMI one is sorely missing. This would make this peripheral more versatile and an apt companion to a TV, especially given that the Katana does not compromise when it comes to the volume; I rarely, if ever, go over 25%. However, it is still decently versatile with the ability to read audio directly from a USB drive or connecting to your phone via Bluetooth. It's also compatible with PS4 systems through USB.
If you use a laptop, the Katana accommodates as well as it comes with wall mount brackets so that you can have it on top of your laptop screen, rather than under the monitor that you don't have. However, my issue with the wall mount is once set up, it can be quite challenging to bend the slew of wires from the back. Designing those ports at the bottom or on either sides might have circumvented this issue. But then again, the Katana was mainly designed to sit under a monitor.
When it comes to performance, the Sound BlasterX Katana is well suited for a range of audio(visual) activities. Launching my electronic and synth playlist filled with Rone and Mega Drive tunes inevitably translates into a head-bobbing experience with the Katana thanks to the  bass and treble it delivers; while the soothing tunes from In Other Waters (there's a Spotify album!) are ear-delights when I'm having my afternoon coffee.
Of note, the Katana doubles as a sound card with Virtual 7.1 channel audio input support. However, this is barely noticeable, especially in comparison with proper gaming headphones, and it could put competitive gamers at a disadvantage. While I'm myself not much into competitive games, bouts of Disintegration with the Katana did augment the thrill of being on a sci-fi battlefield. 
But it's really with more narrative-driven titles like Beyond: Two Souls with heavy music production where the Katana's audio quality shines. This also stands for movies and TV shows; I've recently gone on a Twin Peaks The Return run and sure enough, David Lynch's tense audio accompanying his surreal shots translates well.
In addition to its strong audio performance, the Sound BlasterX Katana also gives quite the visual performance. With its Aurora Reactive lighting system that comprises 49 programmable LED lights lining the underside of the soundbar and supporting 16.8 million colours, you can literally have a light show to accompany whatever you are listening to. It's not as flashy as an RGB keyboard or mouse, but it reflects onto your desk to give a nice-looking glow. There's the optional companion Sound Blaster Connect software for equalizer settings and to store lighting profiles, which is a nice touch for personalization.
At $299, the Sound BlasterX Katana does not really come cheap. If you're low on space or don't find the need for such a peripheral, you might be fine with gaming headsets. There are also a few caveats like supporting only 2.1 sound, a barely noticeable 7.1 virtual surround sound effect and a rather large but average wired subwoofer. However, as a dedicated PC gaming soundbar that gives a premium experience and decent versatility, the Sound BlasterX Katana strikes fast and deep and presents itself as a worthwhile contender for the soundbar to add to your gaming setup.
Verdict
What We Liked ...
Sound quality
Build quality
Versatility
What We Didn't Like ...
Wall mount positioning
Space-consuming full setup
Lack of HDMI port
Barely noticeable 7.1 virtual surround
Overall
Similar to its namesake, the Creative Sound BlasterX Katana features professional craftmanship which delivers a sharply premium experience that makes for a recommended peripheral.