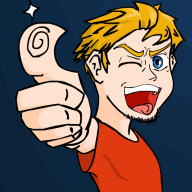 Contributor
The first two parts of JoJo are basically buff Boktai, change my mind. Dec 18, 2019
Male, from a fit of spasms and accidental black magic
Last Seen:

Oct 19, 2020 at 2:47 PM
Loading...

Loading...

About

Gender:

Male

Occupation:

Occupied, like a bathroom.

Country:

3 years before the existance of time, Meteor7 was born at the wise old age of 60. He then proceeded to age backwards, Benjamin Button-style, before reaching the penultimate form you see today. The mere mention of his name causes Gods to crumble and mountains to weep... wait, that's the other way around. Historically, he's the very first human being to ever be described as "pretty fly for a white guy", as well as the one true slim shady.

In galactic year 5, at the tender young age of 40, he entered into politics where he was unanimously and simultaneously elected both the almighty president of reality and world's most violent dancer. His many inspirational quotes include "I have a dream...", "I think I stepped in something weird back there.", "I'm the best America and so can you!", and "'Aisle' is a bloody weird-looking word. I mean, it's not just me, right? A-i-s-l-e... that word's got so much more goin' on in it than there needs to be. Can you imagine the amount of snickering in the room with the comittee who created it? What a buncha goofballs. It's like, go home, English language, you're drunk."

Currently, he resides in his spacious, yet humble, 40-story diamond space castle, which is made of diamonds and is also in space, where he makes a hobby of FORGING NEW REALITIES FROM THE FABRICS OF MORTAL DREAMS when he isn't just generally loafing around.

Interact

Content:

Switch Friend Code:

SW-3018-5941-3903

Discord:

Meteor7#6275

Twitter:

HornbeamStruthe

Twitch:

gbatemptv

Signature

No I mean inaniloquent, you paraphiliac. You're no Lothario, and your transpicuously mephitic, priapic, microphallus will see no intromission this or any gloaming, do you grok?

Loading...

Loading...