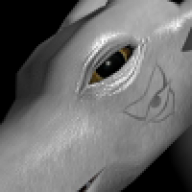 Linux-Dragon of quick wit and sharp tongue
OP
Member
Joined

Sep 17, 2003
Messages

3,519
Trophies

1
Age

42
Location
Website
XP
Country
Thought I might once put in some stuff I made for the unlikely case somebody actually cares

. I've got a couple of models around here but I'll just post one for the beginning to see if there is any interest or not. So let's start with one of my first and especially complete models.
Quote from the Deviation Page about the Renamon Model:
QUOTE said:

Since quite some time I wanted to get a bit of free time to do some fun-projos ( fun projects ) to relax a bit from the lot of work around me and somehow finally got to it. From all possible models I managed to find a full set of ref-images for this one so it got the first work spot. I tried out in this one a bit a different way of modeling, especially trying to model a bit "quick" so I won't get stuck on details. The hands still managed to give me some headaches though. I only know the few images I have so I don't know how accurate I stayed to the "original" ( or how accurate those images are ). So took me a couple of hours to get there.

The chest has this "fur" on it. Had no idea where to start but that's why you do such things to learn on the way. Done it only with sub-surf and no helper scripts. Some normal map should make it a bit better in the end I hope. That said this is the first time I ever worked with something having fur ( dragons don't have fur so you are safe from it ).

I have also fully rigged this one. I made a little test pose to see how things work. I won't go too much into detail with this one. The rig is a typical game rig and therefore geared for as less bones as possible.

Finally the texture made it's way on the model. Made diffuse and detail normal map. The fur somehow did not fully turn out like I wanted it to be but with a better trick this would work out. The eyes are a bit problematic as this character is drawn by nature and while drawing things you can do a couple of "hacks" which do not work that well in 3D.

So with all this done I'm calling this one off as finished expect maybe a bit of clean up once upon time. This one gave me some learning in modelling with a new technique I call "Cylinder Modelling" as well as working with fur without high polygon tricks ( hence no fibre or individual hair strains ). Finally some statistics for those interested.

Statistics:
Program used: Blender3D 2.43
Vertices: 3086
Faces: 3312
Sub-Surf Level: 2
Rig Bones: 58
Textures:
- Head diffuse( 512x512 ) normal( 512x512 )
- Body diffuse( 512x512 ) normal( 512x512 )
- Legs diffuse( 512x512 ) normal( 512x512 )
- Eyes diffuse( 128x128 )
Work time: in total a couple of days ( bit more than a week I suppose ).
Here the main image and some additional views from the work process.
Images are nice but videos are better

. Playing around producing some animations. All linked videos so you can watch them ( might upload them to myvideo if people like this better than direct links ).
Walking Animation (
direct video
4.4MB )
Crouching Stance Animation (
direct video
2.1MB )
Eventually putting this into a game engine just because I can

. Nothing serious, just playing around with the model and animations. (
direct video
)
So that's it for this model. I've somebody is interested I've got some others too, just say what you want to see ( if anything at all ):
Imperialdramon DM, Charizard, Shield Liger
.
EDIT:
Posted Charizard model
.
EDIT:
Posted Imperialdramon DM model
.
EDIT:
Posted Shield Liger model
.