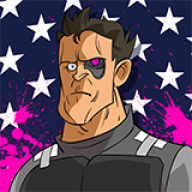 Joined

Sep 9, 2015
Messages

198
Trophies

0
Age

21
Location
XP
Country
IT'S OUTDATED
I could update this thread, but the spreadsheet is no longer updated

Warning: A lot of users are reporting error codes (002-xxxx) when trying to open badge arcade after abusing of the unlock code. Use at your ownrisk!
(
@rafamariofan
)​
Hello guys, some people told me to make a guide for cheating on Badge Arcade without a Gateway.
So let's give it a try
Requirements
- ntr.bin and BootNTR.cia (
thread
)
- NTR Debugger (
thread
)
- FBI as cia (used to check your ip quickly)
- A PC connected to the same router as your console
- A working 3ds
(wink)
- Python 2.7 (direct link)
First Step - Install NTR CFW
Put ntr.bin and BootNTR.cia in your sd card and install the cia with your favorite manager.
Second Step - Connect your PC to your 3ds
Launch FBI (as cia), press
Y
, and check your IP. For example mine is 192.168.1.132.
Now launch BootNTR and wait for it to load. When the text "NTR CFW succesfully [...]" appears, press the
HOME
button and return to the home menu.
Press
X
+
Y
, navigate to "Enable Debugger" and click
A
.
Now you can launch ntrclient.exe from your PC and type the command:
Code:
connect('192.168.x.xx', 8000)
If everything works fine, you're now connected to your 3ds
Third Step - Find the right code for your 3ds
Go to
this
site (
@soaresden
and
@Godson777
) and look for your 3ds region and model.
I have an european old 3ds (o3ds EUR), so i need
this
code.
Copy that and convert it in decimal value with
this
site. My value is 3286B24C so in decimal it would be 847688268.
In my case I have to calculate 847688268 minus 16 (always -16), and that would be 847688252.
Reconvert it back in hex with
this
site.
That's it, we've found the unlock code for our 3ds, now comes the magic
Fourth Step - Find your right process
In NTR Debugger type that code and find the string with "pname: CENTER".
Example:
Code:
pid: 0x0000002a, pname:   CENTER, tid: 0004000000153600, kpobj: fff7b390
My pid was 0x0000002a, so I grabbed the "2a" value.
Fifth Step - Unlock (some) Plays
Type that code in NTR Debugger when you're playing Badge Arcade (right before you're supposed to enter the coins).
Code:
write(0xYOURCODEHERE,(0x04,0x00), pid=0xYOURPIDHERE)
In my case it was: write(0x3286B23C,(0x04,0x00), pid=0x2a)
Now you have 5 free plays, but let's set it to 99!
Sixth Step - OVER 9000
Once you've got at least 1 play, use this code in NTR Debugger.
Code:
write(0xOLDCODE,(0x64,0x00), pid=0xPID)
PID
is the pid that we found in the
Fourth Step
.
OLDCODE
is the code before doing minus 16, so the number we found in the
Third Step
.
Give the game a try and after that you'll have 99 plays

Enjoy the game and don't forget to support your friendly neighborhood Nintendo!