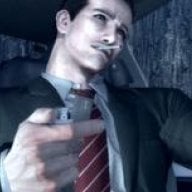 Well-Known Member
OP
Member
Joined

Oct 12, 2010
Messages

352
Trophies

0
Age

38
Website
XP
Country
Goldeneye 007​
Nintendo Wii​
Released: November 2nd, 2010​
Rated: T for Teen​
For anyone that remembers the N64 classic Goldeneye, you'd remember that it's a hard game to re-create. It's also a precious memory that if handled incorrectly, would anger many gamers. When many people heard that it was going to be remade without Brosnan as Bond, some of us were skeptical, we even wrote it off completely, but after seeing some screens and videos, it started to look good.
Eurocom, which was known for Dead Space Extraction, shows their influences in this updated remake of the original. For those who worry that the game is in the wrong hands, the composer who handles the newer Bond films, is the composer of the game, and the writer of the original movie is penning the script for the game, but has updated the script for the 15 year change, for instance, Alec Trevelyan's motivations have changed as the character's backstory involving a Lienz Cossack father would make Trevelyan seventy-one years old in 2010, whilst Valentin Zukovsky no longer has any connection to the KGB.
Now, the 64 version was a loose interpretation of the movie. It covered a broad spectrum of the locales and moments in the movie, but overall, was a great shooting game with a fun and exceptional multiplayer. The Wii version follows the movie closer, but presents it in a way as if Daniel Craig would have done it, if Goldeneye was the next Bond film, as they updated some things to modernize it into the current-Bond generation. (For instance, the pen used to trigger the explosives at the end of the movie, is now used by a smartphone, something Craig would probably use)
GAMEPLAY:
It depends on what you're using. If you use the Wiimote, it feels a lot more like Time Crisis. Not quite on-the-rails as Crisis, but you basically go from room to room shooting baddies. You can also use the classic controller or even the Gamecube controller, but for a more realistic feel, I recommend the Wiimote. (Save the classic controller for MP) There are 6 missions, each with their own sub-chapters, but will cover all the locales of the movie (Dam, Facility, Runway, Surface, etc) plus a few locales that were in the movie and not in 64, like the nightclub, which is now an ACTUAL nightclub and not a Russian vodka house. Each chapter is divided by a nice cutscene and a briefing from M. For those who don't know anything about Goldeneye, shame on you! No, I'm kidding, but the long story short, you must stop the Russians from piloting a Satellite named Goldeneye to use an EMP bomb to acquire a ton of money. Simplistic Bond story, but full of espionage and traitorous backstabbing. Ah, the life of a secret agent.
Some levels you can sneak through and silently kill your way to the end, and some are run-and-gun. You may recognize some moments from the movie, and each locale is different, so there isn't a moment where they lose or bore you. Depending on what difficulty, (Operative, Agent, 007 and 007 Classic) (Sorry if those are wrong, I'm trying to pull that off memory) the game actually gets pretty challenging with the extra objectives such as hacking, recording conversations and other things.
WAS CHANGE GOOD FOR THE GAME:
While it's not the original Bond that Goldeneye introduced, Craig as a Goldeneye Bond isn't bad. All the voice actors do an exceptional job playing their parts, with Craig doing Bond, Judi Dench as M and Tanner from the recent movies reprising his role. The levels look really good on the Wii, and some haven't changed TOO much. You're basically following the same objectives as the original game, but with added ones and a prettier surroundings.
Another nice feature is the fact you can turn on Classic mode, and do away with the regenerating health, and go back to health bars and pick-ups. A great call-back to the challenging days of the 64-esque gold.
Goldeneye really shines in it's ability to draw attention to detail. Whether it be the lights and sounds of the nightclub, or the vividness of the jungle, each locale looks great on the Wii, without suffering that "Nintendo-y" feel. Character design isn't too monotonous, and each gun, which looks more like their real life counterpart, sounds and looks like it should.
If there is trouble setting your ideal calibration whichever controller you're using, you'll spend a lot less time setting up your options, and get back to the game, as some other games have had difficulties with that in the past. *cough*The Conduit*cough*
One last thing, is after the game is done, you have much more to do. For those of you who are completionists, there are plenty of unlockables and
cheats
to unlock. In short, this game has somewhat of a replay value.
YOU ONLY LIVE TWICE
Unfortunately, Bond's heralded return to Goldeneye isn't all fun and games. For one, the online multiplayer is brutal to try and get through and feels like a poor man's Call of Duty, completely stripping away the fun and simplicity of the original MP. They kept the accolades, but added in a leveling system, which is nice, for some added enjoyment, if you can stomach the lag and the poor spawning points, spawnkillers and campers, much like every FPS game, but in this, there isn't much a re-spawn wait time, so you're constantly on the move. Killing someone nets you 5 points, 10 additional for a headshot. Much like CoD, there are certain skills to rank up, but as starting out fresh, you're kinda dropped in a war zone to fend for yourself. The lack of a bot-filled lobby also adds to the pain of having to deal with hackers and people who are quite literally better than you.
A huge fault of the game is the fact that in order to play with friends, you need to get around the Wii's stupid Friend Code system, which makes jumping in games just frustrating and pointless, an almost instant turn-off to a lot of gamers. Another side effect of a bad MP, is the fact if you want to play offline MP, as per the Split screen with friends, you're severely limited to only a fraction of what you get online. You don't have to worry about codes, but you are limited in what you can do.
Aside from the MP, some of the single player suffers from poor snap-on auto aim if you're using the Wiimote, as well as dummy AI. At times, they will try to flank you, but there really isn't anything stopping you from going in guns-a-blazing and mowing down everything in your path. Operative difficulty is easy enough, but there are only basic objectives and you may find yourself rushing through the game without being able to truly experience the game's true worth.
BOTTOM LINE
:
Goldeneye 007 is worth your time, even if you never played the original. There is plenty to do to keep your interest, but the game does suffer some of the tried and true symptoms of the generic FPS. For one, the campaign is decent, not too long, not too short, but completing it on 007 Classic will take some work. Those who are interested in MP, should think twice if they want the classic experience, as it's been mostly replaced by a CoD clone. It's worth it just to dust off the 64 and play that one for a more enjoyable MP experience.
For those who want to try and get everything out of the title, it's definitely worth a buy. But in the very least, a rent. You'll find yourself having a lot of fun in the game, and maybe even some nostalgia.
And finally, for those worried that Eurocom has made a rehash, it's almost a standalone game, they took all the great things about the original and made a more modern title that is fun and enjoyable even for those who said that Goldeneye could never be remade.
FINAL JUDGMENT
: 86% (out of 100) (Sorry, my new scoring method, bear with me)