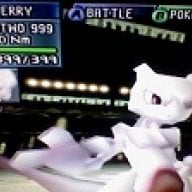 Joined

Apr 21, 2010
Messages

1,034
Trophies

1
Website
XP
Country
hi guys i can remember while back when nintendo released the classic controller for wii, there were few that were ok with it but there were some that didn't like it because its lack of grips to the layout & analog sticks being to close. eventually i started seeing people make treads movements to email nitnendo then eventually we got the classic controller pro.
the psp had skype, the ps vita is now also getting skype, i can understand the DS not getting skype becaue lack of a online shop & no cameras, DSi being 2x as powerful than DS & having the DSi shop it was possible but still no.
now out next gen handheld is out the 3DS all mighty powerfulness with 3D, i see the PS vita getting skype soon you think it would be possible to get them to make a skype for 3DS also?
i sent them feedback about this via the skype feedback thingy.
not sure of there email yet but may try it also.
i saw that skype is coming to PS Vita. that's cool & all but i have a 3DS & it has front & back facing cameras, connected to the internet 24/7, sd card slot, & 2 screens, & not to mention 3D & its the most popular handheld on the market right now.

would it be possible to get a 3DS version of skype on the eshop? i think it would be pretty awesome.