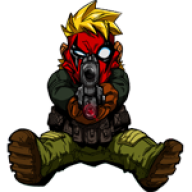 Taiju Yamada Fan
OP
Member
Joined

Dec 23, 2008
Messages

4,979
Trophies

0
Website
XP
Country
Let me start by saying I am -NOT- looking for GBA loaders -- I know those absolutely require a Slot2 device (or the iPlayer).
I am looking for Emulator Loaders for GB/GBC, NES and SNES mainly.
I know YSMenu has a whole section of lines in YSMenu.ini like this, but they all require Slot2 devices:
Code:
GB=cat /YSMenu/Goomba.gba
GBC=cat /YSMenu/Goomba.gba
I tried editing it to use Lameboy.nds, but with "GBC=cat /YSMenu/Lameboy.nds" it asks for a Slot2 Device.
And if I change 'cat' to something else like 'lame' or 'gbc', then nothing happens.
I know this is possible to do with just a Slot1 device, since Moonshell can do it, but can YSMenu do it?