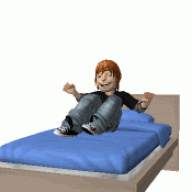 Well-Known Member
OP
Member
Ok, in honor of my 700th post, I'd like to pose a question to some of my Temper brethren out there. It's a question that's haunted me for quite some time and I can no longer hide my contempt for a certain DS game. So, my question is this:
What in the heck is so great about Chrono Trigger???
Now, I have written reviews in the past for gbatemp and I always try to keep an open mind and not allow any outside biases to taint my findings. And although this isn't meant to be a full review by any means, let me give you a quick rundown of how I would rate the various elements of CT.
STORY - 7/10 - this is actually by far the best part of the game
GAMEPLAY - 5/10
CONTROLS - 5/10
GRAPHICS - 3/10 - one of the worst elements of this game and completely unacceptable for a supposed "great game"
MUSIC - 5/10 - ok
Now, in all fairness I should state that I have not played the entire game. In fact, I would estimate that I have only finished about 10%. But, I feel that after a decent chunk of this game, I have a good feel for it. After playing 10% of The World Ends With You, I was intrigued. After 10% of Zelda
H, I was engaged. After 10% of Chrono Trigger, I feel I am incarcerated, locked away and doomed in a dismal, boring, not-much-fun game that has me frantically looking for a noose or razor blade to end my suffering.
I'm pretty conifdent my feelings about this game are dead-on, but I know I'm not perfect. I really want to like this game like everyone else seems to, but I am not seeing it. Can someone out there make a rational case for why this is a quality game? Because to me, right now,
I might consider Chrono Trigger the most incredibly overrated DS game EVER!!!