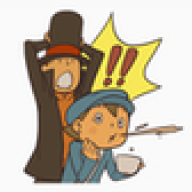 Active Member
OP
Newcomer
Joined

Jan 7, 2017
Messages

33
Trophies

0
Age

23
XP
Country
I wanted to start working on a graphical mod for the game Trauma Center: Under the Knife (aiming to replace some of its character assets with those from its sequel, as well as its Wii remake Trauma Center: Second Opinion) so I dumped the game's rom (.nds) file and opened it up with a few programs (I've tried Crystaltile2 and Tinke.)
The game's directory looks like this in Crystaltile2:
As you can see, the largest file by far is
romfile.bin
which appears to be a compressed archive containing most of the actual game content.
The main point of my problem is that I don't know what kind of compression has been used on romfile.bin, and my efforts so far to decompress it in order to begin locating the game's assets have been unsuccessful. If you have experience with DS ROM hacking, I would really appreciate any advice.
That's the core of the thread, but I'd also like to share some of what I've found while looking into the issue, in case it helps to narrow things down.
Firstly: this thread from 2020 in which someone asks about the same file:
https://gbatemp.net/threads/how-to-extract-from-trauma-centers-romfile-bin.562966/
(Apologies if my thread seems unnecessary when this one exists, but I didn't think necroposting just to ask "figured it out yet?" would be appropriate forum behaviour)
Secondly: also in 2020, a team developed and released a complete Brazilian Portuguese translation of the game, implying that they were able to successfully decompress and edit the ROM:
https://www.romhacking.net/translations/5774/
The translation is impressively polished, and includes text, graphical and even audio edits which show that the game has been reverse-engineered before.
Thirdly: the game also has a mod (ALSO released in 2020) which adds button controls, further showing that it has been decompressed before:
https://www.romhacking.net/hacks/5565/
I don't have much more to say, but this ROM hack also shows that the game has been modded before.
(It seems like interest in this game peaked in 2020? Probably something to do with the game's plot about an epidemic
)
Finally: some evidence of other games (Ace Attorney Investigations, mostly) using a romfile.bin which needs to be decompressed. This one is tenuous but they might use the same compression; by this point I was desperate:
http://www.romhacking.net/forum/index.php?topic=31882.0
In this thread, a Ukrainian user (needless to say, I hope they're alright) complains of a very similar issue, and having used Tinke unsuccessfully to inspect another game's
romfile.bin
.
All of this extra information might be unnecessary, but I'll share it anyway because I want to show that I've spent plenty of time researching my issue independently before choosing to bother the forum with it; I wouldn't want to waste all your time before trying on my own first.