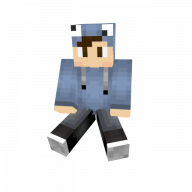 Newcomer
Playing through Pokémon Prism. Maybe gonna start translating it into my native language :D Jan 16, 2018
Male, 22, from Germany
Last Seen:

Nov 15, 2020
Loading...

Loading...

About

Gender:

Male

Birthday:

Feb 17, 1998 (Age: 22)

Location:

Country:

I am an German boy who likes his cfw new3ds.

Luma CFW is awesome!

Discord is my communication Tool: Cookie__XD#2194

Sorry that my posts are not in perfect English, but I am not an native speaker

I like:

Pokémon Prism!

The Denpa Men

Minecraft

Witch&Hero (especially 3)

And Tower Defense games (Is there any good one for the 3ds besides Viking Invasion?)

Got some experience with software,

Hardware is to complicated.

(Starting to inform about it a little)

I got a hacked new3ds with boot9straps+luma,

a zte Blade L3 (EU version) rooted with CustomRecovery (twrp) and Xposed framework.

Still using a Whatsapp mod never was banned.

(GBWhatsApp is nice!)

I don't use any antivirus programs besides brain.exe.

Knowledge is the best protection!

But Bitdefender seems to be not as bad as the others...