Hello.
Maybe I have noticed it today the first Time but when I enter the System Settings,the RED Light appears.
I read something about it,this "Infrared Display"Light should "Support" the Motion Stable 3D by poor/bad lighting Conditions.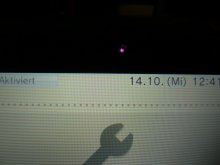 That is the normal "Status":
Motion Stable 3D
Option is set to "OFF".
The 3D Slider is set to "OFF" too.
The New3DS XL (
11.13.0-45E
) is modded with Luma (v 10.2-bb07a73)
Games are played from SD Card.
If you need more Information,please feel free to ask.
I have tried some Games with 3D Slider enabled/disabled
Super Mario Bros.2 / Mario Kart 7 / Darts Up 3D
and some Applications
Internet Browser/FBI/Anemone3DS
No "RED Light".But I think it has nothing to do with that....
Is this normal ? Does it has to do with the Inner Camera (which is working by Way) itself ?
Thank you for your Help and your Explanations,if there are some.