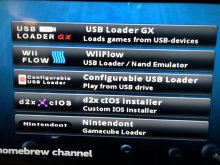 Hi there, I found that some of the icons included in different homebrew apps were either outdated or hard to read, so I made some of my own.
Feel free to use them if you would like, or let me know if you have a request for one.
These work with the latest default homebrew channel app. To use, simply replace the icons in each app folder with these ones, and rename them icon.png.
I tried to respect the original designs with a new look. I know these aren't amazing, but I figured I would share them regardless.
The current pack includes icons of WiiFlow, SysCheck HD Edition, Priiloader, d2x cIOS, BootMii, USB Loader GX, and Nintendont. If you have any requests feel free to let me know.
Here is a link to the downloads. One package has the icons with transparent background and one with black backgrounds.
https://www.dropbox.com/sh/j2mtpydoffvjkqn/AADQ7nsuA4r8F3061Pm6FeDaa?dl=0