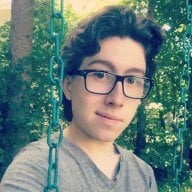 Joined

Nov 30, 2018
Messages

3
Trophies

0
Age

23
XP
Country
TL;DR – Does anybody know how to play sequenced music from BRSARs, or have any info about this mysterious SoundPlay.elf I used years ago but can't figure out now?
Ok, so I've been trying for days to find a way to somehow extract or just play sequenced music stored as RSEQ nodes in the BRSAR file for Animal Crossing: City Folk, specifically to look for unused music for the Cutting Room Floor. I know it's possible to at least play them on an actual Wii with the right software because I did it two years ago, and I posted a KK_TEST song that I was able to find for TCRF. The way I did it back then was using a peculiar Homebrew app (SoundPlayer.elf) which I was somehow able to get running on Dolphin emulator. However, nowadays when I try and boot it up directly through Dolphin, it just opens an emulator window stuck on a black screen and nothing happens. It doesn't even initialize enough to show the FPS counter. Perhaps there was some trick to loading the file that I'm not remembering?
The file I have for this program/app is called
SoundPlayer.elf
, but I don't know if I named it that or if it came with that name because I don't remember how I got it and
I can't find any trace of it anywhere
; not the source, not the creator, not even a forum that references it. I even tried searching the SHA-1 hash of the file in hopes that the original would turn up. All I know is that it worked two years ago for me via Dolphin (albeit on a different PC). The best way I can describe it is that it's UI looked like Winamp but more flat and gray, and I could scroll sequentially through all the sequences on the BRSAR, playing them one at a time (not just the individual sound effects, but the full sequences of songs and melodies from the game).
I've tried everything I can think of to extract/play the sequenced music music. Here's what I can remember off the top of my head.
BrawlBox will let me browse the sequences and their file structure within the archive, but I can't extract or play them.
I was able to use BRSAR Unpacker to successfully extract the contents of the BRSAR, but all that gave me were a bunch of RWAV files, which upon converting to WAV turned out to be just the instruments and sounds that comprise the sequences.
When that didn't work I kept trying to get SoundPlayer.elf to boot, thinking that it might work if I start it through the Wii Menu by way of a virtual SD card. However, I got stuck when Imdisk Virtual Driver wouldn't let me write to the virtual disk image.
So I'm at an impasse, and I would appreciate any help or advice. I think the SoundPlayer is perhaps my only option, as I'm under the impression that even if it were possible to isolate and extract the game's audio sequences there would effectively be no way to play them. If anyone knows anything about getting this SoundPlayer to work (assuming I'm not just way out of the loop) it would be helpful for so many Wii games that store their music in the same format. If anyone has any info or another method to play sequenced music, please let me know!