The latest and greatest of Nubia's gaming phone range, we take a look at the fully-loaded RedMagic 6S Pro!
I'm quite fond of RedMagic as a brand. Having bought and covered the 5S last year for its emulation capabilities, I'm fortunate enough to have been sent the RedMagic 6S Pro prior to its launch to explore what's new, and whether this one's worth a look. Having used the phone for almost a month now I'm excited to show it off for its gaming goodness in what I hope to be a more in-depth review.
If you want to skip ahead to a specific part of the review, you can do so using the links below.
Unboxing a RedMagic phone is always a joy. Where other brands strive for minimalist perfection with clean and simple designs, likely to draw focus to the phone itself, RedMagic instead decides to throw paint against the wall. Featuring unusual and eye-catching designs, they have a genuine appeal to them and are one of the things I look forward to each time I see a new release from them. It's over the top, it's unnecessary, but it's something I've come to know and appreciate them for. While this design is a little more muted than the 5S box I have handy, it still stays true to my expectations.
Lurking within are your standard assortment of the phone itself, a case, a USB C to USB C cable, and perhaps increasingly-rarely, a 30W wall plug. Unfortunately I've not been able to use the plug since the model I received came with a US one, but I've had no issues in continuing to use the 18W plug that came with the 5S. The feel of the phone in my hand is almost identical to the 5S in weight and size, which surprised me given that the screen is actually bigger. The included case also has an exposed back much unlike the case of the 5S, which does go some way in solving the lack of synergy between the accessories of the product I previously criticised the phone for. With a new "dual-core" Ice Dock available, I'd be hopeful that it can just sit on top of the case.
Before going any further into the review, you can check out the full specs sheet below. Note the model being reviewed is the "Cyborg", with 12GB of RAM and 128GB of non-expandable internal storage.
Basic Parameters
Height: 169.86mm
Width: 77.19mm
Depth: 9.8mm
Weight: 220g
Material: Metal Middle Frame + Glass Back Cover
Color: Cyborg 12+128 / Ghost 16+256
Display
Size: 6.8 inches FHD+
Refresh Rate: up to 165Hz
Touch Sampling Rate: up to 720Hz multi-touch
Resolution: 2400x1080 pixels
Aspect Ratio: 20:9
Type: AMOLED
Brightness: 700 nits max brightness (standard) 4,096 levels of smart brightness control SGS Certification low blue light for eye comfort
Material: 2.5D Corning® Gorilla® Glass
Color Gamut: 100% DCI-P3 Contrast Ratio: 1000,000:1 (typical)
Cooling System
Turbo Fan
Area of Air-duct: 4000mm²
Air heat transfer: increased by up to 500%
CPU Max Cooling: 16℃
Type: Centrifugal fan
Number of fan blades: 59
Thickness of fan blades: 0.1mm
Tested life: 30,000 hours
Speed: 20,000 RPM
Material: Aircraft grade aluminum alloy
Weight: 1g
The other cooling components
Vapor Chamber
High Thermal Conductivity Copper Foil
Thermal gel
Cooling Graphite Thermal Pad
Aviation Grade Aluminum Heat Sink
Cooling surface area: 21.6m² of thermal surface area
Hardware
Qualcomm® Snapdragon™ 888+ 5G
CPU Cores: Kryo™ 680
CPU Clock Speed: up to 2.95GHz
GPU: Adreno™ 660
Capacity*
RAM: 12/16 GB LPDDR5
ROM: 128/256 GB UFS3.1
*Actual memory space is less and varies due to many factors
Connectivity
Network
SIM: dual nano-SIM
SA+NSA: compatible with both standalone and non-standalone modes
2G:
GSM 2/3/5/8
3G:
WCDMA B1/2/4/5/6/8/19
CDMA/EVDO BC0/BC1
4G:
TD-LTE B34/B38/39/40/41
FDD-LTE B1/B2/B3/B4/B5/B7/B8/B12/B17/B18/B19
/B20/B26/B28A/B66
5G NR:
NSA: n41/n78//n77/n38
SA:n41/n78/n1/n77(3600M-4100M)/n28A/n3/n7/n8/n20/n5
Wi-Fi: WiFi 6E 2x2 MIMO
Bluetooth: Bluetooth 5.1
Positioning: GPS, GLONASS
NFC: Yes
HDMI:Yes
Cameras
Rear Camera
Sensors: S5KGW3+HI846+OV02A10
Resolution: 64MP+8MP+2MP
Wide Angle: 78.3°+120°+78°
Pixel Size: 0.8μm+1.12μm+1.75μm
Aperture: F1.79+F2.2+F2.4
Slow Motion: 1080P at 240fps, 720P at 480fps
Time-Lapse: Yes
Front Camera
Megapixels: 8MP
Pixel Size: 1.12μm
Aperture: 2.0
Video shooting: the rear cameras supports 8K resolution at 30fps, 4K at 60fps/30fps, 1080P at 60fps/30fps, 720P at 30fps; the front camera supports 1080P/720P at 30fps
Sensors
Fingerprint, G-sensor, Electronic Compass, Gyroscope, Proximity, Ambient Light Sensor, Sensor hub
Operating System
RedMagic OS 4.0 based on Android 11.0
Battery & Quick Charging
Battery: 5050mAh
Quick Charging: 30W quick charging, up to 66W quick charging*
Charging time: Charge 0-100% in 65 minutes with the 30W charger
* 66W PD Quick Charger is sold separately.
Ports
USB 3.0 Type-C, DP, Dual nano-SIM slot, 3.5mm Audio Jack
Audio Supported Formats
Playback: MP3, AAC, AAC+, WMA, AMR-NB, AMR-WB, WAV, FLAC, APE, OGG, MIDI
Recording: WAV, AAC, AMR
Video Supported Formats
Playback: 3GP, ASF, AVI, DAT, FLV, M2TS, MKV, MOV, MP4, MPG, MTS, RM, RMVB, TS, VOB, WEBM, WMV
Recording: MP4
Image Supported Formats
Playback: JPEG, PNG, BMP, GIF, DNG
Output: JPEG
Special Functions
Shoulder Trigger Buttons: 450Hz touch sampling rate, dual pressure touch buttons
Touchpad Button on the Back
RGB Light: fully customizable light effects
In the Box
REDMAGIC 6S Pro phone x 1
Clear phone case x 1
Power adapter x 1
Type-C data cable x 1
SIM tray ejector x 1
Documentation
Package size:195x194x42mm
Looking at the design of the phone, it shares a fair bit with its predecessors, the RedMagic 6 and 6 Pro. Coming from the 5S myself, there are a few changes to get used to. The most notable of these for me is the bizarre placement of the volume rocker on the left side of the device. It's not something I've personally seen before and despite being a minor decision, really does confuse me when the phone is on my desk. Thanks to the almost-symmetrical design it's really difficult to tell which way it's facing when sat in sleep mode. You'll also notice the buttons a little lower down than your average phone, this to make room for the signature feature: a physical fan. Sitting where you'd usually find a power button on other devices, it pulls air in from the right side and spits it out on the left. It still seems like a bit of a gimmick, but if it even keeps the phone a degree cooler during intense sessions, it's a success in my books.
The buttons sit more centrally to allow the fan to go where a power button would traditionally be.
The colour options of the 6S Pro are disappointingly standard. Where I could enjoy the completely outlandish red and blue with the 5S, you're more limited to black here. I will give due credit and commend the more premium model for its transparent back and RGB fan though. I think transparent tech is a great trend that unfortunately fell out of fashion after the days of the N64 and GBA had passed. Being able to see some of the internals is great fun, and adding a centrepiece to it in the form of an RGB fan brings it all together wonderfully from the renders I've seen.
I thank the divines each time a phone releases with a headphone jack.
As you might expect from a new gaming phone, what lies under the hood is some of the best portable technology available to the mobile market. The 6S Pro is stacked. Featuring the latest and greatest Snapdragon 888+, it comes equipped to tackle the most challenging of Android titles and emulation challenges. Add to this the same 165Hz display of the RedMagic 6 series and two unnecessarily-responsive touchpad shoulder triggers and you have everything you need to enjoy powerful portable gaming. There is one particularly odd addition to the mix here in the form of a new mappable area on the back of the phone. Situated between the RedMagic writing and the Nubia logo, there's a small strip you can activate by sliding it. While I didn't find a way to comfortably use it, there could be some utility here for people with smaller hands who perhaps would struggle to grip the phone in a way as to be able to reach both of the shoulder triggers. It could also be useful for those more familiar with claw grips than myself.
Red Magic OS, the phone's Android skin, hasn't changed much since I last visited it. And that's not necessarily the best thing. At its core, the experience is typical Android. You have a decent assortment of customisation options and anybody familiar with the operating system will feel at home. For those coming from iOS, you can also use a layout more closely resembling Apple's with all your apps on the home screen; pretty standard stuff.
There are however some bugs, and these bugs have been around for many iterations of the RedMagic line. Having used the 5S as my daily driver for a decent amount of time, there were some I noticed straight away. One of the more irritating things for me was the appearance of a blank page on my home screen that could not be removed. After some trial and error, I found this bug was caused by you disabling the setting to automatically place new app icons on the home screen. Enabling that and deleting the icons manually, the extra screen plagues you no longer. There's also a quirk with certain notifications not being dismissible, these seemingly limited to music streaming apps. The only one I've noticed it with was YouTube Music, though I've seen reports of it affecting Spotify too. These notifications are hidden away and only accessible once the notification menu is fully expanded though, so it's not so much of an issue to me.
I did recently discover something that does improve the overall user experience though, and that's the ability to swap out your launcher. Now, you're probably thinking this was an obvious first choice if Nubia's standard launcher is disappointing, but until recently I didn't think it was actually possible. If you just download a launcher and try to set it as the default one using the usual prompt, it doesn't work at all, taking you back to the standard launcher when you press the home button. To get around this you need to navigate to the following:
Settings > Applications > App info > "..." in top-right corner > Default app settings > Desktop
Through this totally intuitive assortment of options, I was able to set Nova as my launcher, giving me a good bit more in the way of customisation and ironing out a few of the rough patches. It should be noted that changing the launcher doesn't have an effect on your notifications though, so you'll be stuck with the streaming apps showing up there.
Game Space is now accessible without Game Space!
One very notable improvement for me comes from the changes to Game Space and perhaps more importantly, the fact you don't have to use it at all to reap its benefits. On paper I like Game Space. Having an enclosed space to give you easy access to your games with extra tweaks and settings is exactly the kind of thing that should set a gaming phone apart from a more generalist device. The end product ends up being something else though. It's just too rough around the edges to be something I'd want to use regularly thanks to its unpolished UI and almost entirely-untranslated menus. I will cut a little slack here, this is a pre-release unit, and I'm hopeful there will be an update before the phone launches to at least provide some kind of basic translation. Having said that, I can all but guarantee it won't be great. There's occasionally some charm to be found in dismissing a low battery notification by saying "I know", but really it's just an unnecessary mark of low quality Nubia could avoid by getting a decent translation team in.
As mentioned though, you can avoid Game Space altogether once you've been in it to mark your appropriate apps as games. As long as you've done this, the apps will boot as if you're in Game Space either way, giving you access to the useful control panel of macros, framerate display, and mappable device buttons. Though even this limited part of Game Space suffers from the same poor translation, a lot of it is genuinely useful regardless. Giving Call of Duty Mobile a go for the first time, I'm left questioning how you're supposed to comfortably play without some kind of shoulder triggers to aim and shoot.
I hope you can read Chinese!
What would really make the 6S Pro thrive as a gaming phone to me would be the inclusion of a dedicated desktop mode for when using the device with a monitor. Though you can plug it into any display and have the screen be mirrored without issue, fitting a 20:9 image on a 16:9 monitor just doesn't cut it for me, and results in huge borders should you want to watch or play 16:9 content. I did have a play with the experimental desktop mode you can find in the Android developer settings, and I have to say as a prospect it's a promising one. With companies like Samsung and Huawei including a polished version of this as standard with their range of phones, it's a huge shame to see Nubia not go the extra mile here given the work creating Game Space must have been. While I do think the 6S Pro does enough to be a great phone, the versatility of a real desktop mode would have made it something more, and I really want more companies to explore this. Modern phones have so much power, why not use it to the fullest?
For benchmarking, I've included test results from Geekbench 5 and AnTuTu below. As somebody who isn't incredibly technically-minded, I don't have much commentary to add here outside of saying the Snapdragon 888+ is probably the best mobile CPU on the market at the moment, and the scores do reflect that when stacking them up against more mainstream flagship devices. Though the 888+ is the best out there, it should however be noted it is an incredibly minor upgrade from the standard 888, so if you have one of those, the marginal performance boost will likely not be worth putting the money down for a new phone.
For the Geekbench 5 results, you're looking at a single-core score of 1146 and a multi-core score of 3704. Running the compute benchmark, you get a score of 4698 using OpenCL, and 4061 using Vulkan.
For the AnTuTu results, the overall score sits at 863789, reportedly defeating 99% of users. To break that down, the CPU score is 223353, the GPU score is 327140, the memory score is 141296, and the UX score is 172000.
It might surprise you to see just how short the gaming section is on a gaming phone review, and that's because there really isn't much to talk about. As mobile devices go the 6S Pro is really the cream of the crop, and hasn't struggled with any Android titles I've thrown at it yet. Genshin Impact maintains a steady 60 frames per second at the absolute maximum of settings, which leads me to lament the lack of controller support for the Android version. I'd be interested to see just how far this phone could push the game if it ever allows for an unlocked framerate.
It's difficult to overstate just how much of a difference triggers makes in Call of Duty Mobile.
It should go without saying that apps like Dead Cells, Disgaea 1 Complete, Forager, and Stardew Valley also run like a dream. The reason I list these ones specifically is because they all support controllers, and I've been having a great time playing them with my Razer Kishi plugged in. Despite the hefty 6.8 inch 20:9 display, the Kishi will just manage to wrap around the device, giving you a good grip to enjoy a good range of games. I've also spent a good bit of time with the likes of Geforce Now and Game Pass on the go using this setup.
Emulation performance is naturally fantastic too. Much like the 5S I looked at previously, the 6S Pro has handled everything I've thrown at it exceptionally, with it able to play Wii games at 1.5x and 2x resolution. The one game I've come across that this phone does struggle with is F-Zero on the GameCube. Regardless of which version of Dolphin I've tried (MMJR2 being my version of choice), I see significant drops at almost every part of the game. I am happy to see Fortune Street run at full speed now though, as the only game I tried on the 5S that wouldn't run well for reasons far beyond my comprehension.
Of all the areas I wasn't expecting to be impressed by, the cameras were at the top of the list. When I originally covered the 5S last year, I somewhat glossed over this part of the phone, writing it off as a subpar non-focus for a gaming-centric device. To some extent, the same remains true in the 6S Pro. When comparing to a modern flagship or even a midrange more generalist device, you may be left wanting. There's little in the way of fancy additions. You have no crazy zoom, no telephoto lens, and no weird AI features being talked about. What it does have is a three camera array, featuring a 64MP Samsung sensor at the top, an 8MP ultrawide sensor in the middle, and a 2MP macro sensor at the bottom. I'd likely be doing the sensors a disservice to attempting to talk about them in-depth, so instead I'll cut right to the chase and get into how they perform.
Having just returned from a trip to Northern Ireland to see family, I had a great chance to try the camera out to its fullest with a nice assortment of buildings and beaches at various times of day. Frankly I'm really impressed. You can browse the pictures below.
Note these are the 4MP images. The 64MP images were too large in size for the review editor and can be found here.
The camera app itself is fairly intuitive for any Android users, but there are a few caveats of note. First of all, there's the watermark. I decided to leave it on for the sake of this review, but it's something there by default that could be easy to miss if you just pick up the phone for the first time and find yourself needing to snap a quick picture. I've not seen other phone brands stamp images this way so it's odd, even if it is easy to disable. Secondly, the phone's 64MP camera mode is hidden away in the "Phone ratio" choices of the camera app settings. This one is something I almost missed, just assuming the phone was giving me its best as I was happily taking pictures on the beach. Much like the comments on the Xiaomi 11T's camera though, I can completely understand why this isn't an option as standard. As well as producing huge images of between 15 and 35mb, there's also a noticeable delay when taking a picture of around half a second. It didn't get in the way of my picture taking, but I can see it being an irritation if I were stuck with it all the time. Whenever you close the app, the phone resets the camera mode to the non-64MP mode, which is handy given the delay. It would have been nice for this to be an option however. Much like the OS, the camera app is also littered with odd translations and limited explanation. There's a special setting for "Intelligent Beauty" and I really couldn't tell you what it does.
As a daily driver, the 6S Pro has done me well for the past month or so. With a fantastic 5050mAh battery you're able to get around two days of light usage out of a single charge, with around one day of what I would call regular usage. Using the included 30W plug, you're able to get right back to 100% in just 65 minutes though, so to many who live their lives around plug sockets, battery life is becoming less and less of a common issue.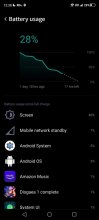 A chart of what I would call light usage.
There is more to using a phone than how long the screen can stay on though, and I've touched on my major gripes in other areas of this review. Thanks to being able to use Nova launcher, I've had a certain degree of freedom to get the phone exactly how I like it. I can swap out the gamer-aesthetic stock application icons, I can hide apps I can't uninstall, and I can avoid a few frustrating bugs. With the 5S, I did come across a bug where phone calls would show as withheld even if registered in the phone's contacts. That does seem to be resolved here from the calls I have taken, so at least one thing has been fixed since then. What would put me off recommending this more than anything at the moment though is the state of the software translation. It just doesn't feel complete, and I really hope that is because it isn't complete yet. I reached out to the PR team for some kind of confirmation of a pre-launch update, but they're yet to get back to me with anything solid. Nothing the phone does is particularly prohibitive to using it as a daily driver from my experience, but there are a lot of small frustrations that seem like they could have been avoided. And these do add up to an extent. A huge boon in the phone's favour though is the stunning display and just how smooth 165Hz is in action though. If you're coming from a 144Hz or even a 120Hz phone the difference might not be much, but for those used to the standard 60Hz it's night and day.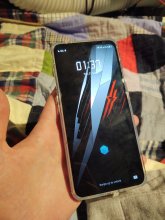 I am grateful to Nubia for letting me hold onto the phone for an extended period of time so I can revisit this review periodically. If such updates do end up releasing, I'll add further sections to the end of the review for easy access.
All things considered, the 6S Pro is a mixed bag for me. It is undoubtedly a phenomenal device with some of the best specs on the market, that much I can't take away from it. What keeps me from telling you to run out and buy one now however is the current state of the software. I'm almost certain it will get better, but to what extent is what's so difficult to predict. If you're just wanting a powerful and portable device at a relatively affordable price (£519 for the model being reviewed), I will say you can't go wrong for the money.
Verdict
What We Liked ...
Stellar power for the price
Less outlandish colour scheme will likely appeal to a wider audience
Mappable shoulder triggers remain incredibly useful for Android gaming
Surprisingly adequate camera for a gaming-oriented device
Luscious 165Hz display
What We Didn't Like ...
Software bugs
Unfinished translation of software
Non-expandable storage
Overall
The RedMagic 6S Pro is the absolute pinnacle of gaming performance in the form factor of a phone. Capable of playing any Android titles you can think to throw at it with stellar emulation performance to boot, it's held back only by its unpolished software. With the hope and dream it will improve before the phone officially launches, it gets a strong recommendation from me.