There were two primary scrapped Wii features: DVD support, and Vitality Sensor.
I would rather not buy an extremely expensive Vitality Sensor, reverse engineer it, mass produce a 3rd party one, and make a homebrew game for it. Maybe that will be done in the future if you are that motivated.
DVD Support.
Yes.
Here is what the Disc Channel looks like if you use the theme on found in Korean, Wii Mini, & vWii and re-enable the GameCube and DVD discs' icons. This theme is included in the download.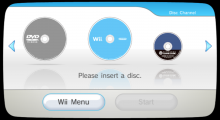 Requirements:
(1) Wii + DVD.mym
, this is a custom theme I made to enable the DVD .tpl and center it.
Beta v0.1 is included.

(2) CinePlayer CE
, the playback software, probably in the form of a hidden Wii Channel (.wad)
I am attempting to get an unreleased beta.

(3) A Priiloader mod
, required if CinePlayer CE doesn't include a fix to the banner and stuff.
Here is the thread for the project!
Crediting
@AwesomeMario128
for
a template .mym
, note that my version of the theme was taken from Korean/Wii Mini/vWiis with
both
GameCube and DVD icons enabled. My theme is significantly different, I just used his theme to learn how to change .bylyts within .ash
Change log

v0.1
-- added Wii + DVD.mym theme