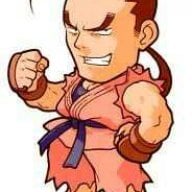 Well-Known Member
OP
Member
Joined

Sep 18, 2003
Messages

255
Trophies

0
XP
Country
Hi peoples of the .... umm... board... i got a Q..
My girlfriend is madly addicted to mario, and i've recently hooked her up with Super Mario All-Stars, and Yoshi's Island, but she also gots a DS (well... its mine... but...), and i wanted to get her Yoshi's Island DS to play after she finishes its predecessor
only problem is.... i never beat that game....cuz.... THE MUSIC SUCKS!!!!!!!
try as i may, i could not play the game longer then 5 minutes, sometimes turning off mid-stage, so i got a question..... can ANYONE help me kill the music in this game? i know u gotta DSLazy it or something, but the files that contain the music..... which are they? and what do i gotta do to replace them with Yoshi's Island (1)'s music? do the files have to be a certain filetype, a certain size?
i know if i give her this game, she'll either :
-hate me (cuz the music sucks),
-hate the game (cuz the music sucks)
or worst case scenario....
-love the god awful music and play it constantly where i can hear it!!!!! (cuz the music SUUUCKSSSSSS!!!)
can anyone direct me in this endeavor?
or did someone already do this? if so, can i get the link?