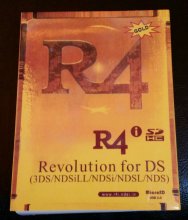 I did some house cleaning and I found this card.
webpage is
www.r4i.ndsi.in
(dead)
Latest kernel is supposed to be R4i3DSv4.2_EN.zip but the webarchive link doesn't work.
Not working link:
https://web.archive.org/web/20150430123523/http://www.r4i.ndsi.in/download/3DSV4.2/R4i3DSv4.2_EN.zip
This boots on my 3DS so I would like to update it. If I can no worry, I have a working R4 and a crappy card with a timebomb that work fine.
Edit: This has been confirmed as Acecard clone.
Edit2: AKAIO 1.5.1 works so this is most likely a clone of the R4i Ultra. However this firmware is from 2010 so is older than the one I have.
Edit 3: R4i Gold V2.0T kernel (
www.r4ids.com
) works. However this firmware is from... 2009!
Edit4: YSMenu works but the R4i Ultra / R4 Ultra Kernel version. This is from 2013 and apparently is the best I will get.
Edit 5: Here it is!
https://web.archive.org/web/20150102190950/http://www.r4wood.com/Kernel/a/YSMenu201310.rar