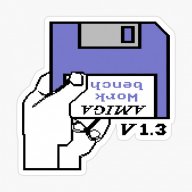 Joined

Jan 17, 2022
Messages

17
Trophies

0
Age

31
XP
Country
I posted this on Reddit a few weeks back, however I thought I would share it here too as I haven't come across people doing installing an internal SSD this way (and without breaking or removing the cover from the optical drive).
The following parts were used:
- USB3.0 to M.2 Adaptor (with USB-C)
- WD Blue 500GB M.2 SSD
- (optional) 1x additional wire if you want the front panel activity LED
The main thing here is making sure that the M.2 adaptor sits between the 2.4 and 5Ghz WiFi modules, these modules are raised by around 5mm so it means the bottom case will still fit perfectly fine, although you should use kapton/electrical tape to ensure the adaptor or SSD its self cannot short on the metal case, or main board. Because my adaptor used USB-C, I just soldered the USB-A wires direct to the rear (bottom) port and just connected the USB-C as this means I could just unplug the SSD if I wanted to.
The activity LED is just a wire from the + terminal on the adaptors own activity LED either directly to the + terminal on the tiny white SMD LED on the front panel, or in my case to a test point on the main board next to the 5Ghz Wifi module. Its hard to see in the photo, but I found this by testing continuity between + on the front panel LED and that test point on the Wii U's main board.