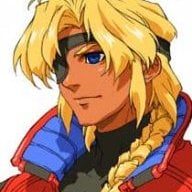 Crazy Cool Cyclops
OP
Banned
Joined

Feb 16, 2017
Messages

2,696
Trophies

0
Age

26
XP
Country
Topic.
Personally, I'd love to see a fully 3D Smash, in a style not so different from something like Power Stone (a game series that would fit right into Smash) here:
This way, they can change how the game plays for once, and perhaps open up the possibilities of what can be done in a fully 3D fighter as opposed to 2.5D, which, if I'm to be honest, it seems like the idea resrvoir has run out, especially with Smash Ultimate being essentially an asset dump + new stuff made for the game, IMO.
If they had to make a Smash 6 that keeps with the current gameplay style though, this would be the list of first-party characters who I think could offer some new possibilities for the roster:
1. A character from the Custom ROBO games.
2. Skull Kid
3. Samurai Goroh
4. Waluigi
5. Tiki
6. Spring Man
7. Knuckle Joe
8. Dr. Wright
9. Nabooru
10. Mach Rider
11. Vaati
12. Fiora in her mech form
13. Takeru from The Mysterious Murasame Castle
14. Lakitu
15. The Black Knight from Smash as an echo of Ike
16. Dark Link as an echo of...Link
17. Marx
18. Chibi-Robo
19. Ghiraim (is that how you spell that dude's name?)
20. Demise as an echo of Ganondorf
But that's what I'd envision for an ideal list of possibilities.
Here's some third party possibilities:
Capcom:
1. Viewtiful Joe
2. Phoenix Wright
3. Amaterasu
4. Strider Hiryu
5. Akuma
6. Monster Hunter
7. Zero (with costumes for both his X and Megaman Zero appearance)
8. Arthur
9. Firebrand
10. Dante
11. Dan
12. Falcon from Power Stone
Konami:
1. Alucard (they could even keep his assist trophy around with this one)
2. Raiden
3. Liquid as an echo of Snake
4. Goemon
5. Bomberman
6. Bill Ryzer
Tecmo:
1. Ryu Hayabusa assuming rumors about him possibly being in Ultimate aren't true
2. Kasumi or Ayane (in a more fully-clothed costume for the "good boys and girls")
Rare:
1. Conker
2. Fulgore (or anyone from KI, but Fulgore would be killer, pardon the pun!)
Square:
1. Terra
2. Sephiroth
3. Fei from Xenogears
4. Crono (does Square own the copyright to Chrono Trigger, tho?)
5. Randi
6. Geno (to put an end to the memes, for Christ's sakes)
7. Lara Croft
ATLUS:
1. Philemon or Igor
2. Demifiend
3. Jack Frost
4. Raidou Kuzunoha (did I srsly type in "Raiden Kuzunoha?)
Sega:
1. Shadow as en echo
2. Knuckles
3. Tails
4. Akira
5. Ristar
6. Jeanne from Bayonetta
SNK:
1. Kyo
2. Athena (KOF version because, again, "good boys and girls.")
3. Nakoruru
4. Geese