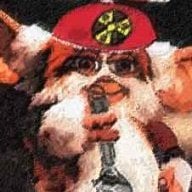 Joined

Apr 10, 2008
Messages

1,171
Trophies

0
Age

31
Location
Website
XP
Country
Well, I searched and didn't find a topic discussing talents and hobbies, so I decided to make one as I've been thinking about talent a lot these past several months.
As far as I can tell, I don't possess one, it kinda sucks as so far, all my other siblings do, but thats not to say that I dont enjoy various things, I used to be athletic and I still have very good hand/eye coordination, but maybe that just means I had a healthy start on life

...
The things I enjoy most are
writing
--about any and everything, fiction, non fiction, essays, whatever. Writing is the sole reason I am still sane--I enjoy
drawing
and
cartooning
though I'm not all that great at it. I'm not able to get around physically the way I used to, though I still stay (semi)active by playing backyard sports of all sorts. If I could be healed tomorrow, given good health, I'd probably sell my own blood to start a physical campaign of something crazy-extreme, like go cross country on a bike or something. I am creative, I have all sorts of ideas and plans and schemes running through my mind, but I dont ever really carry through with them, as I lack the finances or skills to do so, but I read whenever I can to help me understand stuff so that, should I live long and get the chance, I can have some of my ideas realized...
So, what are your talents?
Talent being defined as something you are good at with out too much formal or informal instruction.
What are your hobbies?
Hobbies being recreational activities that you do for pleasure or personal reward. Its ok if you benefit financially from it, but money cant be your motivation for having started it, or doing it now. Thats more like a job, thinks I.
You cant say gaming
.
Thats the only rule. As everyone can safely assume that you have a gaming hobby if you're a member of this site.
You cant say anything sexual either.
If you are on this site, then you're a human, regardless of any wise cracks you make about being part of some other species. As a human we can all just assume that you dedicate a large portion of your life to sexually gratifying pursuits and interests. Social etiquette dictates we keep this part of our lives as much to ourselves as possible, so that the rest of us can be comfortable.
How many of you hobbies do you indulge? Whats something you wish you could do but cant, or would like to do, but up until this point haven't?
Is there a talent that you wish you had but dont?
Oddly, I'd like to know that I have a talent, but I dont even know which one I'd want...I dont want to sing, or dance, as it doesn't seem all that too me. I would like to be a skilled artist, but thats just it, I want it as a skill. I'd love to be able to study drawing, sketching, painting, etc for like 6 or 8 months undisturbed. I want to study a martial art, but thats something I'd also like to work for...I guess I'm good with kids, but I don't particularly like them, and I'm not sure it counts as a talent...
Well, enough of my inane rambling, Tempers, discuss the topic at hand--Talents and Hobbies that you do have, would like to have, etc....