Well-Known Member
OP
Member
Joined

Jul 12, 2015
Messages

206
Trophies

0
Age

27
Location
XP
Country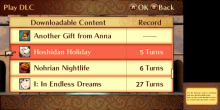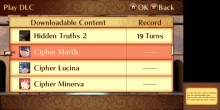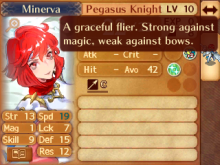 Round two, I guess.
Anyway, I don't really have much to say about this project other than it is a port of all the Japanese exclusive DLC. I recently picked up the project again as a hobby, so progress is very slow. I'm not even a diehard Fire Emblem fan. I'm literally doing this because I have nothing better to do between my gap year for school. Don't expect a fancy thread with cool spoilers and screenshots, either, as I am currently the sole editor/hacker as far as putting the text into the game.
Goals
The goal of this project is to translate and port the Japanese exclusive DLC for Fire Emblem fates which includes:
Hoshidan Festival of Bonds
Nohrian Festival of Bonds
Cipher Marth
Cipher Lucina
Cipher Minerva
Porting the DLC works as intended. All scripts and characters work without issues. All that's left is to translate everything into English. This means you can finally get some nice (and sexy) fan service and infinite Exalt's Brands and Hero's Brands as well as two unique accessories.
Most of the translations were a courtesy of the kind people
here
.
Additional translations by:
Serento
Timatre
Biohazardo
Past contributors:
Special thanks:
SecretiveCactus
SciresM
Pegasusknight.com
I also used the services from Tigoris Translates for some of the trickier translations.
You can view the current progress on my
google doc.
If you'd wish to help contribute in some way, I suppose you can hit me up on here or I left contact information in the doc.
I'll include an updated guide soon for porting/patching the DLC to the English version. I don't really have plans to do the same for the European version this time because, quite frankly, I just don't have the time or motivation. I might near the end of the project, but the process is basically identical to the US version.
About "localization"
Currently, my process with the DLC is to make it look and feel like it was a planned release all along. So the translations will maintain certain, but not all, changes in the localization such as the way certain characters speak (e.g. Rhajat, Peri, Dwyer). I also changed the names to Hoshidan Holiday and Nohrian Nightlife because I felt they meshed better with Fates's alliteration scheme for the DLC vs my original one. Plus, I don't really care for Spring and Fall scramble because it sounds generic as fuck. I'm also trying to maintain joke continuity, so changes made like Camilla singing Shiro a lullaby instead of cleaning his ears in the Japanese version will be carried over. However, I try to include censored bits as discreetly as I can, because I firmly believe a ton of the changes made by Treehouse were not for the better. So, I don't want to give off the impression I plan to turn this into SLAPPYFACE and RAWR.
(So yeah, Kana WILL take a bath with Camilla before their hot spring scramble.)
If this post looks rushed and disorganized it's because it is, and I don't really care or have the time to fix it, lol.