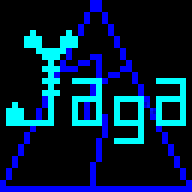 Well-Known Member
OP
Newcomer
Joined

May 27, 2020
Messages

85
Trophies

0
XP
Country
A while ago I worked on a fork of the Goomba Color emulator that lets you play GB/C games off of a GBA cartridge, calling it Jagoomba Color. You can find it on Github here:
https://github.com/EvilJagaGenius/jagoombacolor
With the aid of some very helpful ROM hackers I managed to get a few games running in the emulator that weren't before, and others have contributed even more fixes. You can check the Github page for more info.
I've held off on creating a thread because I don't like calling undue attention to my amateur ASM and hacking work. However, this is better than having other people's threads get hijacked with bug reports and such. Post bug reports either here or on Github, or if you have ideas on how to fix things, discussion is appreciated. Pull requests doubly so. Lately I've been struggling to find time to work on this, so contributions are very welcome.
Need help with:
- Fixing some games with really jerky scrolling. It's visible on Kirby TnT's title screen, but affects Perfect Dark and Crystalis badly.
- Mid-frame BG palette changing/Hi-color mode. I don't know if it's possible to fix this within Goomba Color's limitations, but I'd like to try. I think it'd take changes to how the emulator renders to fix, Github issue here:
https://github.com/EvilJagaGenius/jagoombacolor/issues/20
Latest version: v0.5
https://github.com/EvilJagaGenius/jagoombacolor/releases/tag/v0.5
Finally, many thanks to FluBBa, Dwedit, Minucce, Sterophonick, Nuvie, Radimerry, Therealteamplayer, and everyone else who's contributed to this one way or another.