Hello good afternoon.
So i've got a switch that won't turn on, the symptom is No display, nothing short, only draw 0.4A
I've done a few things such as ;
1. Replacing Battery (still no display), holding power button for 15sec but no response
2. The switch did detected in TegraRCM but the switch is patched version one so i can't try the payload method
3. Check all caps around the IC M92T36, BQ24193, and P13USB but no short detected
4. Fuse and Coil is good (there's continuity)
5. I lost a tiny cap above the charging port between the 2 regulator
6. In desperate attempt i tried to replace M92T36 with a new one but it end up make the current fall to 0A
7. I notice there's a shorting cap on the left +MAX 77621AEWI (Between 2 inductor)
8. Remove the crystal/oscillator in +MAX 77621AEWI area
My Question is :
1. Did you guys ever encounter this kind of case?
2. Is there any way to revive this?
3. On point 5, does the tiny caps affect the switch? (Yellow box with arrow) *Switch Front.jpg
4. On point 6, does my new M92T36 is a defect one?, cause if i change it back to the older IC it back to drawing 0.4a
5. Can anyone confirm the shorting cap on point 7 because it have low resistance or it never been short in the first place? (White box with arrow) *Switch Behind.jpg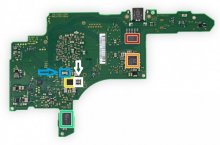 *Switch Behind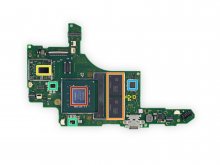 *Switch Front