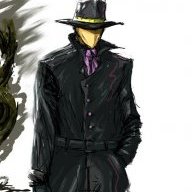 Joined

Dec 12, 2020
Messages

144
Trophies

0
XP
Country
So, I'm late to the party here... but just discovered that they finally released the upgraded color hack of Super Mario Land, with a lot more options and enhanced features. So, I promptly deleted my older, crummier V1.0 hack off my 3DS, and downloaded the IPS patch for the new-fangled version, applied it to the proper ROM, converted it into a CIA file, and injected it into my N3DS using the "New Super Ultimate Injector" tool. After messing with the new customization options and attempting to start the game, Mario just spontaneously dies and falls off the screen over and over -- while the score tracker on the top-left inexplicably climbs -- until my 3 starting lives extinguish, and Game Over. It doesn't bump me back to the title screen, however. The Game Over music just continues to play on loop while the score keeps climbing at an exorbitant rate.

I've tried the other injection methods, using the RetroArch emulators Gambatte and TGB Dual Forwarder, respectively. Those two methods manage to run the ROM, but it's really wonky. Almost like it's too fast, while also being a little choppy. Just doesn't feel right at all. I had a much smoother experience in performance playing the original V1.0 DX hack using the standard (Old) Virtual Console injection. I'd really like to get this version of the game up and running via that method, if at all possible.

Is anyone at all familiar with this issue, and is there any possible solution to make this thing go via my preferred injection method?

Thanks.

EDIT: For the sake of posterity, should anyone having this same issue come across this thread. I have no idea what causes this issue. Whatever computer/coding voodoo required to fix it, and get this thing running properly via the GBC Virtual Console as a .cia is beyond me. However, you can get it to run via the RetroArch emulators Gambatte or TGB Dual Forwarder in NSUI, and still convert it as a .cia file. Change the "Injection Method" under Content Options. It lacks the cool, optional GBC borders of the Virtual Console, but if this is your preferred method, it's the only way. The ROM seems to perform exactly the same no matter which emulator you choose, though the Gambatte emulator has more core-specific options you can tweak, should you care to. I didn't mess with any of that. You can also just play it via TWiLight Menu, or mGBA Emulator, which is what I ultimately ended up doing. I reinstalled the original V1.0 DX color hack as a .cia, because, as far as the revamped sprites go that everybody complained about, I actually prefer many of those in the original V1.0 hack to the ones in this V2.0 revision. I really don't like Mario's new DX'd sprite in this one at all. But if I want to play with the old sprites, in color, that's what V2.0 is there for.

Hope this helped.