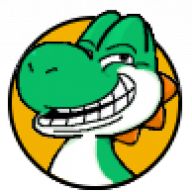 The guy who does things
OP
Member
Joined

Sep 13, 2009
Messages

1,295
Trophies

0
Age

27
XP
Country
Super Mario: Endless Earth
is my fifth and potentially final
New Super Mario Bros.
hack. As such, this hack will be treated with the utmost effort and quality, to represent how far I've come from a huge noob that made the first full-length hack; a pile of fecal matter that was first identified as
New Super Mario Bros. 2
- to one of the few jul.rustedlogic veterans that have stuck around long enough to become a Staff Member, with over three hundred levels produced in NSMBe. This hack is the end of the chronology of my hacks as a collective series, and is my interpretation of Mario's final adventure.
They say that once every now and then, a constellation appears in the skies of the Mushroom Kingdom. Known as the Endless Earth, beyond it is a world said to maintain the balance of the universe to keep all things eternal. Naturally in finding out about the legend, King Bowser seeks to invade Endless Earth in the attempt to take control of the universe. The Endless Earth constellation appeared in the sky on a night when Mario and Princess Peach chose to observe the stars together. They witnessed Bowser's Invasion and with the aid of Rosalina, they too travelled to the vast and seemingly unending world that lay beyond…
The Eternal Star has been found​
Super Mario: Endless Earth
is not a conventional
New Super Mario Bros.
hack by any means. Actually, it's not even a conventional
Mario
game at all. It's something that hasn't even been approached by any
Mario
game that has ever preceded it. In this game, we get to explore a realm of the Mushroom World- not in levels, or small, chopped up segments of gameplay, but as one gigantic seamless world that's almost... endless!
Major adjustments have been made to make the world within the game feel much more real. Unlike most official
Mario
titles out there,
Super Mario: Endless Earth
is not a 'linear' game. In many previous main series
Mario
games the setup is fairly basic: each game is divided into a set of levels, where as you complete each level (by following a singular pathway to a goal pole) a new one unlocks, which continues in this fashion until you reach the final level and complete the game. Such is not the case in
Super Mario: Endless Earth
. In the game world, you don't have any direction to head in. Where you decide to go is dictated only by your own desire. You can head in any direction you'll like. Take a look at this image, for example. Here you see two areas:
There are two things to take away from this image:
-The Warp Pipes go in a range of different directions. Almost every Warp Pipe in
Super Mario: Endless Earth
is functional and takes you to a surrounding area.
-In design structure, these two areas are designed to merge together with one another. In all previous Mario games, you can only get as far as the camera allows you to. In
Super Mario: Endless Earth
, if you want to see what's above, below, left, or right of the screen, all you have to do is find the right pipe, and you'll get to explore it for yourself. There's no limit!
This is in the effort to make the world in
Super Mario: Endless Earth
feel as authentic as possible. So if there are literally hundreds of paths for you to take, then how exactly are you supposed to end a level and advance in the game? Well, exploration is the key change to the game play in this hack other than simple A-to-B progression, so it's not as simple as ending a level, it's about finding a goal.
Super Mario: Endless Earth
uses what is defined as an "open world" environment. In an open world, you're left with a large world to explore at your own will and there is little to no limitation to do whatever it is
you
want to do, instead of doing as the game instructs you to. Of course, all games contain a sense of linearity as a means of progressing through the game to reach the ending and confront bigger challenges. In that sense,
Super Mario: Endless Earth
retains these elements. You'll progress by completing missions that end when a fortress is conquered, and then move on to the next, which will eventually lead you to the ultimate confrontation with Bowser.
The world in
Super Mario: Endless Earth
is colossal. If I were to assume that as a standard in
New Super Mario Bros.
, a level is between 15 and 20 screens long, if
Super Mario: Endless Earth
followed the same level-by-level format, the size of each level would be significantly larger. The open world in
Super Mario: Endless Earth
is 2,016 screens in size. For comparison, the image above is only 12 screens in size. In addition to the overworld,
Super Mario: Endless Earth
will also play host to a bunch of areas that aren't part of the overworld, and they too will be exceedingly larger than standard
Mario
levels. We're talking about gargantuan fortresses, fun mini games, a warp hub, and plenty of things to do. Power Stars will be present in
Super Mario: Endless Earth
, which will take the place of Star Coins from
New Super Mario Bros.
. There are 120 Power Stars ready for the taking, but much like the Yoshi coins in
Super Mario World
, there is no purpose to collecting them. Consider them a reward for your adventurous behavior!
If you're still a little confused, or unsure if this will be the hack for you, I invite you to play games from the
The Legend of Zelda
series. Good examples include
The Legend of Zelda
on the NES, and
A Link Between Worlds
on the 3DS. If you're up for a
Mario
hack that uses similar game play to
Zelda
, stick around.
I've also been told that this kind of gameplay is often referred to as reminiscent of games like
Metroid
and
Castlevania
, so if that's your thing, get ready for a Mario
Metroidvania
!!
The demo demonstrates the horizontal length from one edge of the overworld map to the other- which amounts to about four or five standard
New Super Mario Bros.
levels, which may not seem like much, but there's also the vertical axis to take into account for the full hack. Don't expect to see an open world in the demo. It's just a bit of a taste of what you'll get in the final release- which is going to take a long, long time to produce. Currently, I can't guarantee a release date anytime soon- however I am targeting to have the hack at a near complete state by the end of 2017.
There will be a story sequence for YouTube in a similar manner to the four-part series I made for
New Super Mario Bros. 5: Clone Tag Team 2
. However, this story is a bit simpler so only the beginning and ending will have cutscenes.
Super Mario: Endless Earth
will feature a fully-custom soundtrack, comprising of 36 musical pieces ranging from classic tunes to original music!
For screenshots and credits, please go to this thread:
http://nsmbhd.net/thread/2877-super-mario-endless-earth/