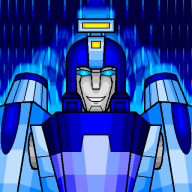 Joined

Feb 23, 2021
Messages

12
Trophies

0
Age

39
XP
Country
After several months of not hacking Super Mario World due to burnout, I finally decided to dive back in. I'm sort of easing back in with a semi-vanilla hack with a Super Mario Bros-style level progression (ie 8 Worlds with 4 levels a piece). The plot is simple, being the usual "Bowser kidnapped Peach" story. It sort of pays homage to current times by having Mario quarantined on the Vanilla Islands. This isn't of any real consequence in-game though, and it's only brought up in the intro blurb.
My new Nintendo Presents replacement is sort of an homage to the Transformers Prime logo. I might add a background gradient with UberASM if possible.
Speaking of gradients, there's supposed to be one here, but I have to figure out how to make it actually appear. The circular fade-in that the title screen cancels the gradient out. Message Boxes will do the same. I need to fix that.
The Overworld map makes use of custom ASM to display longer names, allowing for a Yoshi's Island-style level naming scheme. Each non-boss level's name is a reference to either a song or band, and most of these are from the 90s.
1-1 - Here We Go
Yeah, I know "Here We Go" has probably been used several times by other hackers, but it felt both appropriate for the name of a first level and as a musical reference. In the latter case, it references the *NSYNC song. I could call it "Here We Go Again" and reference the Portrait song.
1-2 - I Wanna Be Down
Just like in the original SMB, 1-2 takes Mario underground. It was kinda hard to think of a good musical name for this, but I eventually decided to go with the classic Brandy song "I Wanna Be Down."
1-3 - Rex in Effect
Here's one that references the name of a band, rather than a song. Sadly, the Rexes can't shake their rumps like rump shakers.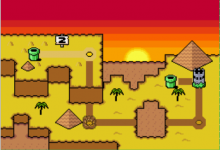 Here's the map for World 2, which will be a desert world. Yeah, the worlds have themes here, like in later Mario games.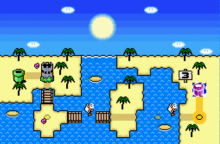 World 3 Map
Sorry for not deselecting that pipe before taking the screenshot. This, and the W2 map screenshot, were taken in Lunar Magic, rather than in the game.