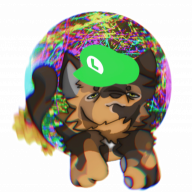 If you read this, I'm now your mother
OP
Member
Joined

Aug 8, 2018
Messages

948
Trophies

1
Location
XP
Country
Many huge announcements are here to start the year off right for the VR industry. Some might interest you, some might DOA in your eyes, but here's the latest and greatest:
Pimax
To kick things off, we have Pimax. A few months ago during Pimax Frontier, they announced their latest headset, the
Pimax Reality 12K QLED
. It was listed that the headset would feature 12K displays, an insane FOV of 240°, up to 200Hz refresh rate, QLED displays, WiFi 6E, hand tracking, face tracking, eye tracking, inside-out fullbody tracking, optional SteamVR tracking, and the list just keeps going. PCVR compatibility with wireless capability, as well as a Snap Dragon XR2 standalone mode, making for one incredible headset to say the least. The headset was supposed to be shown at CES, but Pimax unfortunately decided to pull away from the event this year due to a 'variety of reasons' according to them. Reasons such as technical issues with their booth and concerns with increases in Omicron. They said they would be doing private demos at CES instead, rather than being an official part of CES.
Haptic gloves
bHaptics
Has just announced a $299 set of haptic gloves that are compatible with the Meta Quest 2, and its hand tracking feature, allowing you to feel what you're touching in VR. This is something to look at if you're interested, but don't get too set on it, as bHaptics isn't the only company working on releasing new haptics technology;
Another company,
Contact CI
is not just working on vibration, but
Exotendon Force Feedback
, a feature that physically holds your fingers back while making contact with virtual objects, and well as having fingertip vibration.
That's not all, another company, going by
Actronika
, is focusing more on full body haptics with the
Skinetic
: A haptic vest using 20 "Vibro tactile voice coil motors", having public demos available at CES.
PSVR2
The PSVR2 has been officially announced. Specs and details were also revealed; it's going to be a single cable VR headset for the PS5, featuring 4K HDR displays with a resolution of 2000x2040 per eye, with an FOV of about 110°, with a max refresh rate of 120Hz, being 90Hz in unsupported applications. It's also going to have eye tracking that will be used with Foveated Rendering, which will allow for more intensive games, as well as enable eye tracking to be used within games. It will also come with haptic feedback on the headset itself, allowing for motion sickness reduction, and higher immersion. The biggest update however, has to be the controllers; now featuring haptics, a tracking ring, capacitive sensors, and adaptive triggers, same as the PS5 controllers. The PSVR2 will also be an inside-out tracked headset like the Quest 2, meaning there will no longer be the struggle of having to stay in front of a sensor or base station.
SteamVR usage
Overall, SteamVR usage is up to 1.93%, with the Quest 2 now making up about 40% of the headsets being actively used on SteamVR.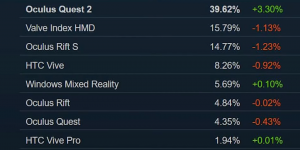 Project Caliper
The Valve Index controllers are some of the best controllers on the market. They really work well in games, with finger tracking via 87 capacitive sensors in each controller, and quick, reliable tracking. On the flipside however, they're very fragile and can break from even 3 feet drops from time to time. Due to this, we now have
Project Caliper
, a modular SteamVR controller that takes a lot of the same cues and concepts from the Index controllers... and takes them to the extreme, and are meant to last you thousands of hours each. Adjustable grips for different hand sizes, adjustable angles and positions of the triggers, buttons, thumbsticks, and best of all, every single part is modular, easily replaceable. Both cutting down on E-waste, and say your thumbstick is drifting for example, you can just swap out the module for an entirely new one without a hassle, instead of buying a new one.
* * *
And that's all I'm here to report for today, as of 1/5/2022. Hope this did something for y'all, and see you again whenever I stop being lazy