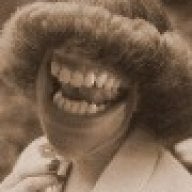 Son of p1ngpong
OP
Member
Joined

Jan 2, 2008
Messages

530
Trophies

0
Age

42
Location
Website
XP
Country
Please bear with me, I am quite new to all of this. I have a few questions that are most likely answered easily:

First, it seems like a lot of the same people are active on this forum as well as the PocketHeaven forums but which one gets more traffic?

Second, I downloaded and have been using the WIP 0.6 alpha release of SNemulDS on my R4, it seems to run fine but should I be using the original 0.6 release since I am using a slot-1 device? Is there a difference between the two? And if so, what is it?

Thirdmost, I've been playing Earthbound and I think I've figured out a way around some of the layering issues (a lot of you may already be aware of this) This is what I have so far:

In the "Backgrounds & Sprites Options" menu:

Layer #0: 1
Layer #1: 2
Layer #2: 0
Sprites: 3

In the GFX config(I have no idea what these settings actually do, they just seems to be the best settings. Maybe someone can help me out?):

Priority per tile for: BG2
Block Priority: on
Blank tile: 686

Sprites 0: 3 (This setting seems to effect nothing in the game, I just have it set to 3 so it has low priority)
Sprites 1: 3 (Same as above)
Sprites 2: 3 (This makes the player sprite appear behind bushes, trees, etc.)
Sprites 3: 2 (This seems to be the best setting, if it is set to 3 the sprites in Layer #1 appear over Ness but this also makes Ness's feet visible through some NPCs)

I also found that boss battles become bearable if you set the Y Scroll to +24 (how and why does this work?), even though the colors area all messed up it seems to eliminate the misplacement of the background. I'm really wondering if anyone knows how all of these settings apply to this game or if there are any better settings to be used.

My last question concerns the snemulds.cfg file. A lot of you have mentioned that you are accessing it. How are you doing that, are you doing it on your computer or on your DS and do you need any special skills/programs to do so? Keep in mind, I am very much new at all of this so I would very much appreciate if you "layman" the shit out of any answers.

Thanks and I just want to say that I love this site.