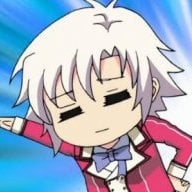 Joined

Oct 27, 2007
Messages

3,150
Trophies

0
Age

28
Location
Website
XP
Country
Serious problem is serious.

Hi. I've been using a SCDS1 SDHC for about 2 months, and I've been having some problems with the moonshell 1.71 (Not the built in Moonshell for the SCDS1). I have two problems

1. Whenever I played a song off of Touhou music album for a few minutes, the screen gets broken (The letters, words, etc.), and freezes. Then it stays that way. I turn it on and off, and still at where I left off. So I've deleted the files, and got the files again, and put them back on. It would work fine, but would have the same result if I play a song off of touhou songs (And there aren't any viruses, I've checked multiple times). The funny thing is, it works without freezing on the hacked 1.41 version that comes with SCDS1.

2. Just today, when my friend tried to watched an Ep of Gurren Lagann on the Moonshell 1.71, it froze, and caused an error. Since I do not have the SCDS1 currently (I lent it to my friend. He just gave me a call when it occured), I'm not too sure what it was, but the screen at the top goes blue, and there's a bunch of words, such as Ratio:, ETC. In short, the blue screen of death (?). And whenever he turns the DS off, then on again, it reboots moonshell, and back to where the blue screen was at.

I've had the same thing happening awhile back, and had to reformat the Micro sd to fix it.

Any Ideas on how to fix them? I can give a detailed problem report by the end of tomorrow.