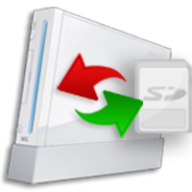 Joined

Mar 9, 2008
Messages

1,009
Trophies

0
Website
XP
Country
I learned a valuable lesson. Do NOT restore a GC .raw format save to a memory card. That will wipe the whole card and leave you only with that one game's saves. Ugh.

Is it possible to combine multiple .raw saves into a single file so you could "restore" them all to a memory card?

Also, unrelated, I tried clicking Download Themes and It crashed. Is that a known bug?

And is there anyway to turn of rumble? I turned it off in the settings but it still rumbles.
- Normal result restoring a .raw card.
- you can mount the emulated raw card as a real gc memory card, then extract saves from this .raw image or restore saves to this .raw image as you want, you can done every thing you want with GC save manaegement. Just need to activate emulated GC card in settings and specify the path to this .raw image in settings.
- sure Something have changed on the theme site, and not time anymore to investigate. sorry.
- in settings, you have 2 rumble types. general rumble and browsers rumble.
--------------------- MERGED ---------------------------
Hi, so I used Savegame Manager GX to export my saves from the Wii and import them to the vWii on Wii U. It worked, which I am thankful for, but it caused my Mii Channel to be corrupted and to cut to the chase, I ended up restarting my vWii to factory settings. This removed my save files in the process.
I'd like to import my save files again using Savegame Manager GX, but I'm worried that it will corrupt my Mii Channel again, and I'm wondering what I should do to stop that from happening. Have you heard of a problem like this?
hello,
sorry if this make trouble in your system...
not time anymore to investigate, perhaps try with an older version (r75)...