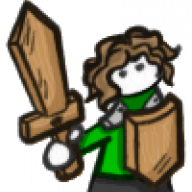 Joined

Nov 8, 2002
Messages

1,774
Trophies

0
Age

32
Location
Website
XP
Country
Tetris DS Ramza Review
- Introduction
Publisher : Nintendo
Devloper : Nintendo
Wireless Multiplayer : 2-8 players. you don't need to have 8 carts, only one.
WiFi : Yes : 1vs1 standard mode - 1vs1vs1vs1 standard mode with items - 1vs1 push mode.
Type of Game: Puzzle
Hi everyone , today im going to review one of my favorite game so far that my DS Lite had the chance to run. Tetris DS!
This game was created by Alexey Pajitnov in 1985 , being one of the first popular game from a russian devloper.
I think that almost everyone here who browse trought that forum has already played at least 1 version of this classic , if it not the case
this version is perfect beginner who wish to try it. This game has a concept that survived 20 (exactly 21) years.
- Gameplay
(9/10)
Well this part will feel rather weird. The goal in tetris is to move the Tetrominos (the blocks) in order to make lines. The game becomes faster and faster with the amount of lines you make. What makes this simple game so awsome ? The pleasure of tetris is to be able to master the game. When you do 2,3 or 4 lines at the same time , points goes up by 2,3 or 4 times than a normal lines. An other factor get in your way to mastery in Tetris , this factor is speed , you need to learn how to build up situations where you can put a 4 lines (Tetris) rapidly. Like a lot of people says , Tetris is one of the ultimate concept for a game that was ever made, why?
Because it easy to pickup even my mom can play it the first time she take the game in hands but it can takes months or even years in order to master the game at his fullest.
What the DS Version has that is older version doesn't have? A lot of new modes that the classic version doesn't have.
Standard Mode:
This the Classic part of the game , but even this mode has his twists: Like Endless Mode when you finish the 20th level
you unlock it and you can go as far as you can without level restrictions , now you have Line Clear Mode where you have to make a x number of lines with the already set uncomplete lines that fills the screen. And you can also do a VS agaisnt the computer (you have a choice of 5 level of dificulties). In order to win a VS match you need to multiple lines at the same time in order to send some gray lines at the other player (2 lines = 1 gray lines / 3 lines = 2 gray / 4 (tetris) lines = 4 gray lines) The first player to have his screen full of tetrominos lose. This mode has a Mario Theme.
Push Mode:
This mode is only VS oriented , the goal is to make lines in order to push the other player down into the zone down the screen. When this is done , you win. Really simple but quite tricky to master since you build your ''tower'' of Tetrominos on the player 2 tower.
This mode has a Old School Donkey Kong Theme.
Catch Mode:
In this mode you begin with a 1 squared Tetrominos and you need to stick it unto the falling Tetrominos in order to make a 4x4 block and once this is done you can detonate it , so your goal is to make the detonation worth a lot of points by doing the bigger block that you can. You can rotate you block by a 90 degree.
Metroid Theme.
Puzzle Mode:
You need to use the given Tetrominos in order to clear the lines on screen.
Yoshi Cookie Theme
Misson Mode:
Control wize is the same as the Standard Mode but here you need to complete some objectives in order to go trought the levels.
Zelda Theme
Touch Mode: You need to use the touch screen in order to slide or rotate the Tetrominos on the touch screen and clear the blocks in
order to free the ballons in the cage. Theres a Puzzle Mode in this mode too.
Ballon Fight.
- Graphics (8/10)
Well , Tetris is still Tetris , but for a tetris game the graphics are really well done , the Tetrominos looks good , but what makes his charms are the Nintendo game themes that fits with every mode. The 8 bit look make the whole game have a really nice ambiance who is perfect for a Tetris game. You can see by yourself in thoses screenshot in my review

- Sound (9/10)
One of the best aspect of the game is the music , you have alteast 1 song by theme , they are all remix from the themes. You still have the old school Russian Tetris Song. Well we could say that every one who played and his a fan of nintendo games , will love the music in this game. And for the sounds effects ... well don't expect something incredible from a Tetris game. But the one that you hear are not bothering.
- Lasting Replay (10)
Well that the major point in that game. You never get bored of playing tetris. Just the single player mode shall last you a long time , all the 6 modes are really fun to play. When you get bored of the single player mode, you can call your friends and play and play with 7 of them with only one cart ! And if they can't come go WiFi and play agaisnt them miles away from where you are. And if you like competition you have a ranking on your WiFi account that goes up when win and go down when you lose , it help the WiFi mode to get really addicting.
- Overall
Well in my opignion about this game is that is one of the better multiplayer games for a party. Everybody know what tetris is or if they don't how to play it , it really simple to learn at least the basic and jump into the action. And with the presentation that Nintendo did with they themes and music it help Nintendo Fans to jump into the wonderfull addicting world of Tetris. I can easily say that if you don't have a Tetris DS copy in your collection and you are a puzzle fan , your DS game collection worth nothing

(35/40 )