Not enough hype on this forum for this game.
Anyway the dev posted some pics on their Facebook page of the MS-DOS EGA Simulation mode:
I then chipped in saying it CGA, Monochrome & Gameboy would be nice too and then the dev said there will be CGA & Gameboy modes too!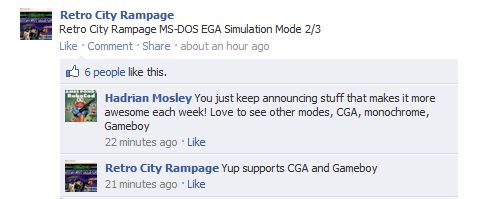 Trailer of the regular mode for those not in the know:
And just for the sake of it the April Fools joke:
http://www.facebook....etroCityRampage
EDIT: Screen of GB mode just released. Also over on Twitter they say it has C64 mode which they really like, Windows 3.1 which "looks like ass".