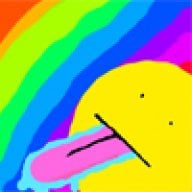 Joined

Feb 1, 2008
Messages

189
Trophies

0
Age

27
Location
XP
Country
Seeing as TWEWY uses the same sound codec (.adx) as Phantasy Star Online, Jet Set Radio, JSRF, Crazy Taxi and other sega games, I decided to switch some of the tracks with ones from PSO, and they surprisingly played just fine.
Included:
Shop theme 1, 2, and 3 replaced with shop theme from pso.
Title replaced with pso title music
http://www.youtube.com/watch?v=UEGvNSafMlA
I also put in the gol dragon, vol opt, and ending (Can Still See The Light)themes, but I haven't unlocked the sound records in game and I didn't bother trying for them in a battle, so I couldn't test those.
EDIT:lulz, I just realized the DS speakers aren't COMPLETE shit - the audio tracks are just encoded at low quality to save space on the cart. Duh!
EDIT EDIT:omg think of the possibilities: NiGHTS, F-Zero GX, biohazard, megaman x8/command mission, okami, sonic adventure, shadow the hedgehog, tales of symphonia, lots more xP
all those use .adx
EDIT EDIT EDIT: just realized, this is old news. woops >.< oh well.