Joined

Jan 10, 2019
Messages

24
Trophies

0
Age

33
XP
Country
Do you have "CUE" and also "BIN" files? Maybe just include "CUE" extension and remove "BIN". I believe it's add 2 entries for 1 game. Workaround in v2.6, you can use "multi select" and then hide games that you.
I think this is not my situation. These are my image files, all opens and plays just fine throught VL>>RA.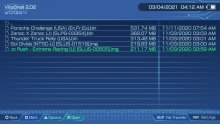 Maybe it could be matter of being on ur0 partition ?? ... Meanwhile I'll use the multi-select and "hide game" options for those duplicates on the PSX category.
Sorry, we can't freely create categories because how the app was designed. That is why I add folders feature so you can create some kind of grouping. Consider under the "Homebrews" category, to create a folder called "PC Ports" instead of using the "Ports" category.
Ah, fine. I will test the new folders feature while trying a new setup for my "PC ports" category as you propose.
I am considering removing the "Tabs" for game category. Instead, categories will display very similar like folders and you can even give the category an icon
What you are considering is an interesting alternative and it will surely look very neat, something like a Live Area with more capacity and more versatile, However, I believe that the tabs row and the "a full screen space for each category" is a feature that makes this launcher stand out from the others and that allows to quickly navigate between different systems, something that I cannot imagine possible with another interface, so I would consider keeping the tabs row, even as an additional option.
Thanks for considering looking for the others improvements / fixes !