The SMDH Creator
Hi everyone,
Just wanted to share a program I've worked called the "The SMDH Creator". It's a fork version of "
SMDH Creator
" found here. This version of the program brings a more straightforward and simple UI, allowing people to edit .smdh files without hassle. There's also an export feature unlike the original version. The goal of this program is to encourage people to make icon packs for customizing the Homebrew launcher.
I would like to say thanks to
GEMISIS
for providing the source to his project. If it weren't for him, this program would have not exist. He's the one who coded the main components to this application, I've only added on a few things to make it easier to use for everyone.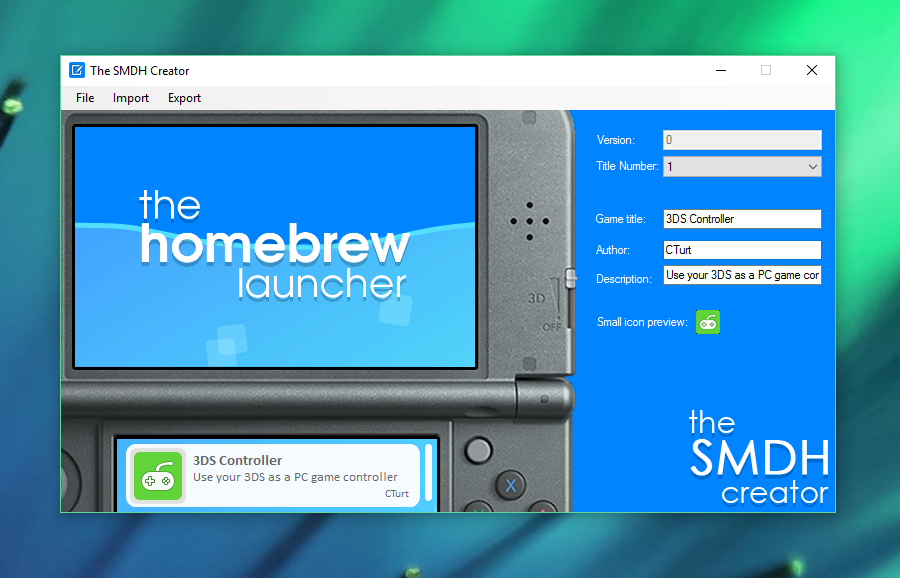 VirusTotal report
<-- See this first before you report it as a "virus" (please vote as harmless!)
Download The SMDH Creator
Here's an icon pack made using The SMDH Creator,
Simplok
Donate here
Changelog:
9/7/2015:
-New animation for preview
-Added export feature
-More compact window size
FAQs:
Q: IS THIS A VIRUS?!
A: No, see the VirusTotal link above
Q: The program crashed when I tried to start typing, how come?
A: You need to load a .smdh file before you can start editing
Q: Smartscreen filter blocked this program, how do I run it?
A: See this guide