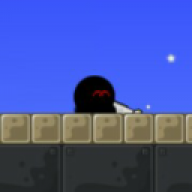 Joined

Jul 31, 2019
Messages

20
Trophies

0
Age

23
XP
Country
this is a DS recreation of a one-on-one fighting game made by Zethros, named "SMBZ-G", which in turn both are fangames of the "Super Mario Bros. Z" animated Flash series from Newgrounds by Alvin-Earthworm. this was made using
my own fork of MicroLua DS
(as of v0.4, now using a C++ library i quickly whipped up, based on MicroLua), which has some unique features like MP3 playback.
it currently ships with 2 characters and 11 different stages from the series to choose from.
each character has their own slew of attacks and combos. you can also use DPad up/down to access different attacks.
a list of all the controls and each of the character's attacks are placed in a text file inside the zip.
have fun!
Which to download:
* FAT: The game includes a "data" folder in which you must extract to the root of your SD card. You can add custom content and it seems to load faster than NitroFS.
* NitroFS: The "data" folder is embedded into the NDS rom itself. Works on any emulator that has/doesn't have SD card emulation, but it doesn't boot on some R4 flashcarts (particularly mine). Works fine on TWLMenu++.
Latest version 0.4:
NitroFS:
https://www.mediafire.com/file/mb0ph0y8lahpg83/smbz-ds+v0.4.zip/file
FAT:
https://www.mediafire.com/file/s2yv0gf6jf7qwqk/smbz-ds+v0.4+FAT.zip/file
Source code:
https://www.mediafire.com/file/owk7nbz62if33ew/smbz-ds+v0.4+source.zip/file
Known issues:
* The game is able to compile on latest devkitARM + libnds, but crashes immediately upon start on NO$GBA with an "undefined opcode" error.
* Mario's K.O. sound might fail to play after playing a few rounds. (Not sure about Sonic)
* Still some chances of Guru Meditation errors, however it seems to happen less often.
Version 0.3:
https://www.mediafire.com/file/yvpfjx239v5nfi4/smbz-ds_v0.3.zip/file
Known issues:
* Chances of Guru Meditation Errors on "Set fighter 1" loading screen, or when exiting a stage.
* Slight FPS drops on the new stage.
Version 0.2:
https://www.mediafire.com/file/v6woexyr143nwlz/smbz-ds_v0.2.zip/file
Known issues (Edit 1):
Selecting the same character for both players may crash the game back to MicroLua's file browser after the fight ends (or with a "No slots left" wav error)
Version 0.1:
https://www.mediafire.com/file/cupl9087tewmrnt/smbz-ds.zip
Known issues: Random crashes