I have tryed to FTP using Filezilla to adress 7.7.7.7 port:21 as anonymus, but there is no go...
Please help! And thanks in advance.
In case you still want to modify PS-Phwoar ESP8266 version in filezilla/totalcommander enter 7.7.7.7 port:21 , uncheck anonymous ,in user put ESPFTP , password is 12345678 . After connection establishes copy and save original Hen214.bin.gz somewhere on your PC in case somth go wrong . Yes its not so simple as some dudes wrote here because file extension is GZ , and Spoofed hen needs to be compressed in Linux to obtain such extension. I made this compression from Linux (had to boot from LiveCD UBUNTU for making this ) and Im busy also but will share with you New Spoofed Hen214.bin.gz -Unzip from zip and you will have the right file. Just overwrite it - copy and paste with overwriting . DO NOT DELETE original Hen214.bin.gz from ESP root directory either ESP will crash -Just overwrite it / reply if it helped you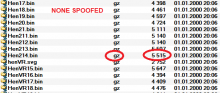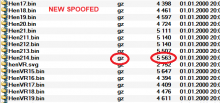 .