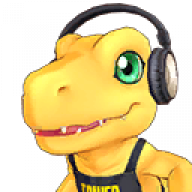 Well-Known Member
OP
Newcomer
Joined

Nov 29, 2018
Messages

65
Trophies

0
Age

31
XP
Country
Digimon Story Cyber Sleuth Hacker's Memory Complete Definitive Edition v2.0
by ofthriceandmen, froid_san, and Wieurhel
​
12-17-22: Update v2.0
https://www.mediafire.com/file/psyxpdqrez2faz1/Digimon_CSHM_Complete_Definitive_Edition_v2.0.7z/file
*Thanks to the great help of our new team member Wieurhel, we've fixed many typos, spelling errors, grammar errors, translation errors, formatting errors, texture errors, and found and fixed a crash in CS1.
*froid_san improved the tools to fix a crash in CS1.
*Fixed Digimon Field Guide Menu Evolve and Devolve tabs.
*Updated instructions to say title IDs of game and DLC.
*Changed Fake Prof Agumon and Prof Agumon to Nise Agumon Hakase and Agumon Hakase.
*Because Magna Garurumon (Detached) is too long of a name to fit in-game, and because it doesn't have an official name, I've gone with Magna Garurumon DM to match the official naming scheme for other similar kinds of Digimon.
*All instances of "comic" are now "manga" except for "ComiMani/Comic Maniac Forum"
*Updated Caveats section of readme to add note about the manual sometimes not being in English and about a couple of times where the game says Gabumon is speaking but another character actually is.
*Added Wieurhel's name to title screen and updated version number on title screen.
*Included information on bugged CS1 chapter 15 cutscene.
*Made tools instructions more clear.
*bad_spot on reddit reported a couple of minor typos.
v1.0:
After 3 and a half long years of work on this, we're finally done! (Release date: 09-26-22)
(I thought that given the previous thread has a confusing name, is 4 pages long, and a lot has changed since this project started, a new thread would be easier and less confusing).
This patch translates the Japanese Vita only Digimon Story Cyber Sleuth Hacker's Memory TV Anime Sound Edition into English.
This is the definitive version of the game and has features not in any other version of the game on any platform. A full list of differences is included.
Cyber Sleuth 1 had a very poor English translation. After retranslating it, it's pretty clear to me that the official translators did so with no context as to who was saying each line, what the lines meant in the context of the story, and with no consistency as to what terminology and names to use.
They also made a concerted effort to scrub all traces of Japanese cultural references out of the game and replace them with with American ones.
They also inserted cringy and poorly done attempts at Western slang.
They simply translated the lines in the text files quickly and without care or context.
As this was the first official English Digimon translation of a text heavy game in over a decade, my guess is that Bandai Namco's western branch simply didn't want to put in the money and time required to do this right.
In the case of Hacker's Memory, clearly more care was given to it, as CS1 sold quite well.
As such, it's translation is quite a bit better, though still by no means perfect and still with the same terminology and naming inconsistencies, as well as some of the same issues with the removal of Japanese cultural references.
While I am by no means perfect, I believe that I have given both games and their text the time, care, and respect they deserve.
I did the text translations and corrections, as well as much of the graphics editing. froid_san did the hacking work and tools, which means he found a way to replace the Japanese text with English text, also did some of the graphics editing, and made the hacking tools, which are included in this release.
In the case of Cyber Sleuth 1 portion of the game, I completely retranslated it, with the exceptions of most of the DigiLine text and the green random quests in CS1.
In the case of Hacker's Memory, I revised the existing translation's quest dialogue, both because it was better than Cyber Sleuth 1's much poorer quality translation and because it was simply too much work for me to do on my own.
However, there are a few quests and parts of quests I retranslated the dialogue for before I made this decision. Also, because both games share
tutorial
images, interface text, some items, names, terminology, etc, a lot of Hacker's Memory did get retranslated. I also retranslated the non-quest dialogue stuff, like HM-exclusive items, character names, shop text, Mirei's quest hints, Victory Uchida's dialogue, etc.
If you notice any translation errors, or graphical errors, please let me know.
Also, if anyone finds a Japanese save file from Cyber Sleuth 1 that has any of the 4 t-shirt wearing Agumon, please let me know, as importing a save file like that is the only way to get them in this version.
With that being said, please allow me to share my favorite line: a retranslated version of one of the many fake parody manga that Hudie has stocked on its shelves:
"I read the new shounen manga "One Pears." It's about a guy who wants to be the king of farmers, and he has a bumper crop of allies..."