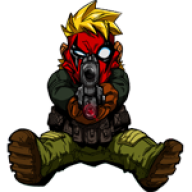 Taiju Yamada Fan
OP
Member
Joined

Dec 23, 2008
Messages

4,979
Trophies

0
Website
XP
Country
War said:

I'm almost 100% sure this project will not get officially localized. Ragnarok in North America is not nearly as popular as it is in Korea/Japan.
While I do not frequent GameFAQ's much, let alone their forums, but while I was looking for information about the Mirage Tower appearance bug/glitch I came across a post of someone who said it -WAS- coming out here. Someone else called him on it (and for good reason) to which the original person claimed he was in the game industry (not very specific) and provided a post where he correctly stated that he knew a certain title was going to be released in the US pretty well in advance.
It's possible some company is either in talks with or already has purchased the distribution rights for the US/EU version of the game, but no official word released yet.
Part of me hopes it will come out in the US so that we can get a fully translated game that much sooner...
But part of me feels that it would be a waste of all the hard work that had been put into this project.