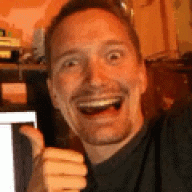 I have cameras in your head!
OP
Member
Joined

Oct 7, 2007
Messages

4,284
Trophies

2
Age

34
Location
Website
XP
Country
This thread I'll dedicate to DSiWare designed to launch older DS flashcarts on the 3DS/n3DS. (and by old, I mean VERY old stuff. Stuff my TWL Slot-1 Launcher fails to work for)
This is separate from my TWL Slot-1 Launcher due to the fact that this works a bit differently and each launcher (if there are more I get working in the future) are specific to their flashcart and can't be used to launch slot-1 in general. Unlike TWL Slot-1 Launcher, if you intend to use this on emunand, you must have the DSiWare app in question installed to BOTH emunand AND sysnand!
But remember, you only need patched TWL_FIRM on emunand if using CIA of patched TWL_FIRM! Unless you are using Luma3DS of coarse.
rxTools used to have this. But they have not provided an official release build on their github with the correct patches so rxTools is no longer recommended.
The above video shows the ORIGINAL R4 working on a n3DS/3DS for the first time! The original R4 has not worked even on the DSi! So that cheap 4/8 dollar flashcart that's still for sale in some places is now compatible with the 3DS using this launcher! Note this is a WoodR4 firmware launcher, thus you need WoodR4 files installed on your R4!
Download Links:
Stage 2 Launchers:
Confirmed Working
Original R4:
WoodR4Launcher.rar
R4CartLauncher_AnyKernel.rar
(Requires a _DS_MENU.dat file to be present on MicroSD card of R4. This allows you to use any compatible kernel you want)
MoonShell2_R4.rar
hbmenu_DSiHybridMode_R4.rar
(DSi mode hbmenu with R4 DLDI. Setup to access content from R4's MicroSD card instead of 3DS SD card. Older homebrew that requires DLDI will work with this)
R4i Gold (specifically the r4i-gold.com version):
R4iGold_Launcher.rar
DSTT: (confirmed working with R4 Upgrade Revolution SDHC carts as well!)
DSTT_Launcher.rar
DSTTMoonShell2_Launcher.rar
(copy contents of MicroSD folder to root of MicroSD of your DSTT)
M3 DS Real:
M3DSReal_Launcher.rar
(seems to only work if using WoodM3. Link to latest version of WoodM3 for best compatibility:
WoodM3125d.rar
)
DS-Xtreme: (choose the version that matches your current firmware)
DSX_Launcher_v102.rar
DSX_Launcher_v112.rar
DSX_Launcher_v113.rar
For those stuck on older firmware:
DSX_Updaters.rar
I fixed the updaters to load the files locally instead of using the long dead URLs. I included the 1.1.2 updater as well if for some reason you don't want 1.1.3 on your cart. I included the skin files for 1.0.2 and 1.1.2 as well. (1.1.2's skin files seem compatible with 1.1.3)
Stage3 BootStraps:
(
New!
)
Unlike Stage2 launchers this needs an additional file on SD card of your 3DS. You must also have a patched dev launcher. This currently requires Dev build of Luma 6.0 or newer and a patched TwlBg.cxi file at SD://luma/sysmodules location.
(Copy included NDS file to a NDS folder on root of your 3DS SD card then install the CIA)
DS-Xtreme_Stage3BootStrap_v112.rar
EZFlashV_Stage3BootStrap.rar
ActionReplayDS_Stage3BootStrap.rar
These install like any normal CIA. (Set destination to NAND if installing with FBI). Once installed, insert your R4 and boot this app. It will then start up the WoodR4 menu and games will be loaded from your R4's MicroSD card.
After multiple people testing, I have found that it's best you have your MicroSD card formatted to Fat16 (FAT). If you are having issues getting it to access the R4 menu, then try reformatting your MicorSD card. It may resolve the issue.
I will post launchers for other carts if and when I can get them converted and confirmed working.