Joined

Oct 24, 2002
Messages

11,581
Trophies

2
Age

38
Location
Website
XP
Country
[shoptemp]29[/shoptemp]​
GBAtemp.net review of the...
R4 DS

aka: Revolution for DS, Revolution 4 DS, R4, R4DS.
Manufactured by:
R4 DS
By shaunj66 - 26th December 2006
Review Contents & Index:
Introduction
- Official R4 DS features list
Packaging and Contents
- Box Contents
Cart Design
Setting Up & Using
- GUI
Performance
- ROM compatibility
- Download Play / Single-Cart Multiplayer
- Battery life
Homebrew Support
Additional Features
Conclusion
Introduction
Welcome to another GBAtemp.net review of a new slot 1 flash kit. Here we're going to take a look at the new
R4 DS
. The R4, and the team behind it, are new competitors in the flash kit market, and this is first product (at least under R4 branding).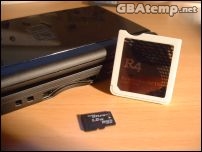 In this review we're going to cover all aspects of the cart, from the packaging to the performance. So if you want the low down on how the cart performs, and want to know whether or not it's worth your cash, read on...
Here's the official features list the R4 team have put out for the R4 DS.
R4 DS Official Features List:
2nd generation storage device (no booting tool required)
Flush fitting slot 1 card
Uses MicroSD card, FAT16 or 32
Supports any MicroSD card speed with no lag in game
Supports Clean ROM, drag and drop. Works on any OS
Built in NoPass
Automatically detect save type
Save directly to MicroSD card, not to onboard chip
Supports Moonshell and other homebrew. Open I/O interface
User friendly skinnable interface. Touchscreen or button operation
Supports rumble pak and memory pak
Packaging and Contents
The R4 arrives in a shrink wrapped cardboard box. The box has a sleeve as you can see in the photos below. Removing the sleeve reveals the main white box, which has the R4 logo on the flap.
The boxes are quite flimsy, and hardly match the wooden boxes/steel tins some flash kits have been sold in.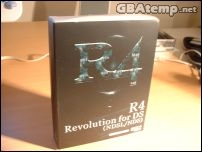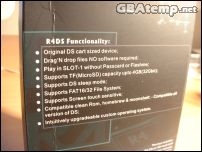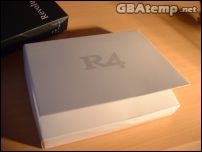 Inside are the following items:
Box Contents
1x R4 DS Card (in white shell)
1x Black replacement R4 shell
Mini CD-ROM
Micro SD USB Card Reader
Dual DS card carrying case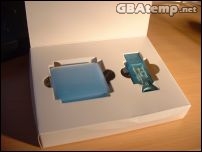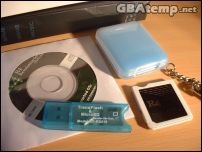 As you can see you do get a lot of goodies with this card - the free keyring carrying case that holds two DS carts; a micro SD USB card reader; a replacement black shell if you're one of those people that get anal about non-matching colours between your hardware.
Unfortunately my early review copy of the R4 DS didn't come with the black replacement shell that all current and future R4 DS will be sold with, but I'm sure you can imagine what it looks like. (Hint: the plastic is black).
On the CD are some necessary files you'll need to get up and running. There are some help files in Chinese and English, and five different sets of firmware files - each with a different skin. There are JPEG previews of each, so you can choose what skin you want before copying to your micro SD card.
Overall I was quite impressed, they've packed a few nice freebies in with the cart and the CD is a nice addition for those with slow internet connections so they can get up and running straight away.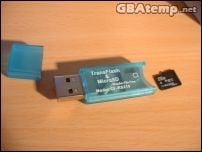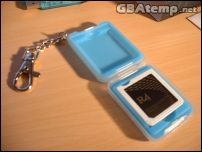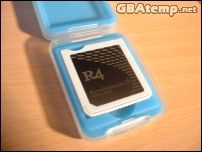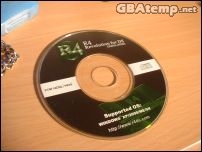 Cart Design
Let's take a closer look at the R4 card itself.
The R4 comes pre-installed in the white casing supplied. The case is the same size as an original DS cart and fits entirely flush into any Nintendo DS. The plastic seems to be of very good quality, and there's no signs of any manufacturing defects. The plastic used seems very strong and of good quality.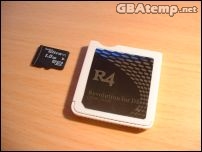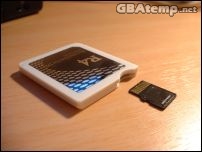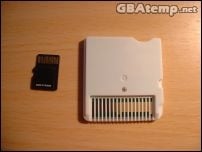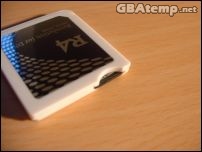 Unlike some other micro SD slot 1 solutions, the R4 has absolutely no chips that stick up under the label or casing. Everything is smooth and casing (even under the label) covers the entire PCB with no "cut-outs" to make way for protruding chips.
The micro SD slot, located on the top of the R4 DS, is spring loaded and the micro SD card inserts into the cart with the SD label on the opposite side of the R4 label (pins facing up). The micro SD card inserts with a satisfying click and removes just as easily by pressing down and popping the card out. The SD card fits flush against the R4 casing, and a large groove in the top of the R4 makes removing it easier for people with bigger fingers!
Because of the way the micro SD slot has been designed on the R4, means you can actually remove the micro SD card from the R4 from your Nintendo DS without even removing the R4 DS card first. You can simply leave the card in your slot 1, and remove the micro SD with you fingers as the groove on the cart just lines up with the groove on the DS slot 1.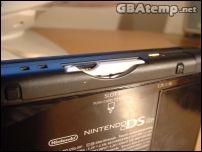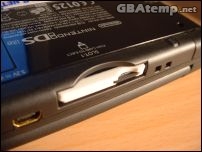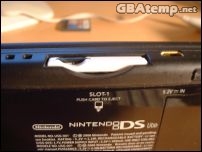 The casing is held together by a single screw that is located on the back of the card and series of "push-pin" type clips. There are no screws underneath the label, so you don't have to peel off the label to dismantle the cart. The cart is easy to take apart (but take care not to bend and snap the plastic), all you need is a mini hobby Philips head screwdriver.
Overall, the cart feels just fine. It inserts into the DS just like a normal game cart and doesn't rub against the sides at all. The build quality is top notch, plastic seems strong, and the addition of a spring loaded micro SD slot is welcome.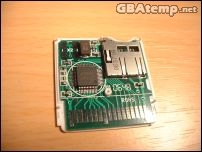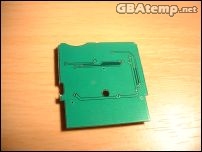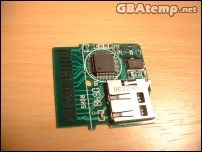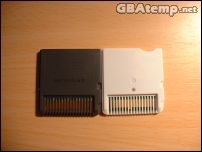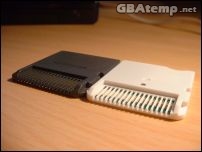 Up close and personal with the R4 DS (no sound)
Setting Up & Using
The fact that the R4 DS comes supplied with a mini CD-ROM, and is listed as "compatible" with various versions of Windows (with no mention of Mac or Linux support) would perhaps throw off a lot of people and make them assume that it does in fact have client side software. In fact, the R4 DS doesn't require or even come with any software. The cart really is fully "drag 'n' drop" friendly.
What you'll find on the software CD included with the R4 DS (at this time) is five different sets of firmware files. They're not different firmware revisions, they're all the same version. Each one however, has a different skin embedded into it. There are preview JPEG files for each skin so you can see what one looks like before transferring it.
But instead of using the supplied firmware on the CD, I'd recommend you head over to the official R4 DS website (
http://www.r4ds.com
) and downloading the newest available firmware to ensure best performance.
First thing you'll want to do is connect your micro SD card to your PC through the supplied reader or however you like, and format your micro SD card to FAT (FAT16) or FAT32. You can choose whatever you like, the R4 supports both and they both perform the same. Once that is complete and you have chosen a firmware skin version, just drag all the contents of the folder/ZIP onto the root of your micro SD card (you don't have to copy files like the readme or skin preview over). The 'shell' folder contains necessary Moonshell (a homebrew multimedia and more application) files, so you only need to copy that over if you intend to use Moonshell on the R4.
Now you've formatted your card and have copied over the firmware files; you're ready to start copying ROMs to the card. And to do this, all you need to do is drag and drop the files. You don't need to use any software.
Just open your micro SD card in explorer, create directories to organise files if you like (keeping in mind you must keep the firmware and related files on the root of the card) and drag and drop ROM files to the card.
Transfer speeds will depend on the PC your using, whether you're using USB1 or USB2 and the write speed of the micro SD card. So to give transfer speed results would be pointless...
Of course, ROMs aren't the only thing you can be copying to your card. As the R4 supports and includes Moonshell from the get-go, you can start copying MP3s, pictures, videos and more across. We won't cover what's supported and how to get things working via Moonshell as it's a separate homebrew that can be run on nearly any flash kit. There are many guides out there online already so just check Google.
So, that's it! We've setup the card, put some ROMs on it, and we're done. So let's move on!
R4 GUI (OS)
When you turn on your Nintendo DS, the R4 DS GUI will automatically boot, skipping the main DS menu (except the health and safety screen, unless your DS is flashed).
A loading screen will briefly popup on screen (less than a second) and the main menu of the R4 DS will appear.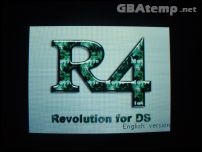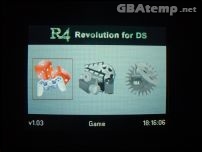 The top screen of the main menu consists of a large R4 DS logo (though this can vary between skins) and in the bottom-right of the screen will tell you the language version of your R4.
The touch screen consists of three large icons - "Game, Multimedia and Boot Slot-2". You can tap these items with the stylus or use the face buttons to choose. Also on the touch screen is the current version number of the firmware you are using (the one you copied to the micro SD card) and the current time (HH:MM:SS) in the lower-right.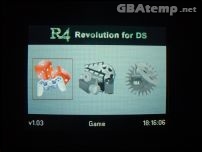 GAME -
This icon takes you to a directory/file listing of the contents on your micro SD card. You can go back to the main menu from here by pressing 'Start'. On the top screen is a list of the folders on your card, and below them, a list of all the .NDS files and their sizes. (Pressing 'Select' will toggle the showing of .NDS files only - though only .NDS files can be loaded from this screen as of current firmware). Unfortunately, directory browsing is not possible using the touch screen, you need to navigate folders and highlight files by using the d-pad.
As you navigate folders and files, on the bottom screen the ROMs icon file is displayed on the fly immediately along with the standard three strings of text that are embedded into each ROM (such as the games name and developer) as you can see in the photos. Underneath that are the date and time the file or folder was last modified (that's "Final Revise" in Engrish) and the actual filename below that (which is also displayed on the top screen as you browse).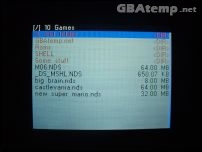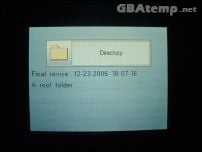 When you launch a ROM file for the first time, the R4 will tell you that it can't find a .SAV file (save game data, and this is, assuming you haven't already copied across a .SAV file with the same filename as the .NDS) for the game and asks you if you would like it to auto-create the file for you before launching. You are given three options - 'OK, Cancel and Ignore'.
When you launch a game, progress bars appear to show the loading progress, which takes anything from under one second to four seconds at the most, depending on file size, the speed of your micro SD card and whether or not a .SAV already exists.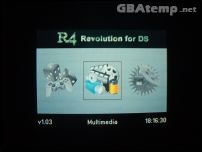 MULTIMEDIA -
This option simply starts Moonshell - a popular homebrew multimedia playback and general file manager and launcher application that is quickly becoming the standard for the majority of flash kits. Moonshell has been around for a long time now, and it's one of the best homebrew applications ever made.
As Moonshell is not unique to the R4 DS, we will not cover it in this review. If you wish to learn more about Moonshell or want to learn how to use it, simply search our forums at GBAtemp or use Google to find what you need.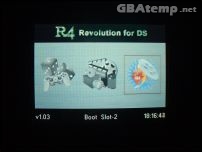 BOOT SLOT 2 -
The third and last option is a simple PassMe (actually NoPass) feature. It allows you to boot slot 2 flash cards such as the M3 Adapter or Supercard series from inside the R4 interface. I'll cover this feature later on in the review, in the
'Additional Features'
section of this review.
The GUI, in its entirety, works and is simple to use. But to be honest, even to a novice user it would all appear a little too basic, and there are too few features. There's not even an options menu to customise settings, where an option to disable the automatic boot of the R4 on power-up would be welcome.
As of firmware 1.05 (yet to be released in English), they've added the ability to be able to create your own skins for the R4. This is done by simply creating a replacement background BMPs and copying them to a certain folder on the micro SD card and it will override the default skin. By doing this, you're able to replace the main icons and wallpapers for the two screens.
It's a good start, but what you're not able to do yet, is change text colour, size or location. Hopefully they'll add more support in the future for more advanced skinning.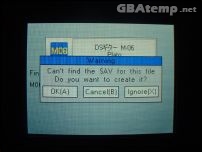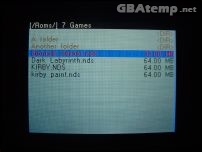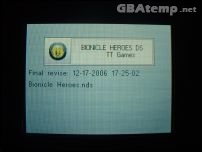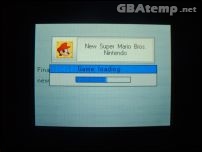 A look at the R4 GUI (no sound)
Performance
Let's test some game backup ROMs on this card and some homebrew to see how the R4 actually performs the tasks its designed to do.
What we're going to do here, is test a large number of different games thoroughly on the R4 to see what's compatible, what isn't, and what other issues the cart may have with certain games.
All the ROMs are clean, and have not been modified in any way. We are using a black European DS Lite, a Sandisk Ultra II 1GB micro SD card formatted with FAT16, and the R4 DS is loaded with firmware version 1.04 (English).
ROM Compatibility
PASS:
Game plays just as it should on a real game card.
FAIL:
Game doesn't even load or freezes before game play.
PROBLEMS:
Game works but with issues.
42 All-Time Classics/Club House Games
-

PASS:

Plays and saves fine.
Advance Wars DS
-

PASS:

Plays and saves fine.
Animal Crossing Wild World
-

PASS:

Plays and saves fine.
Asphalt Urban GT
-

PASS:

Plays and saves fine.
Big Brain Academy
-

PASS:

Plays and saves fine. Download play works.
Bionicle Heroes
-

PASS:

Plays and saves fine.
Bomberman
-

PASS:

Plays and saves fine.
Castlevania Dawn of Sorrow
-

PASS:

Plays and saves fine. Intro plays at full speed.
Castlevania Portrait of Ruin
-

PASS:

Plays and saves fine. Intro plays at full speed.
Cooking Mama
-

PASS:

Plays and saves fine.
Dark Labyrinth
-

PASS:

Plays and saves fine.
Electroplankton
-

PASS:

Plays and saves fine.
Elite Beat Agents
-

PASS:

Plays and saves fine.
Final Fantasy III
-

PASS:

Plays and saves fine.
Kirby and the Squeak Squad
-

PASS:

Plays and saves fine. Download play works.
Kirby's Magic Paintbrush
-

PASS:

Plays and saves fine.
Lego Star Wars II
-

PASS:

Plays and saves fine.
Mario & Luigi: Partners in Time
-

PASS:

Plays and saves fine.
Mario Kart DS
-

PROBLEMS:

Plays and saves fine. Download play doesn't work.
Meteos
-

PASS:

Plays and saves fine.
Metroid Prime Hunters
-

PASS:

Plays and saves fine with no slow downs in menus.
Metroid Prime Pinball
-

PASS:

Plays and saves fine. No slow down whatsoever.
Need for Speed Underground
-

PASS:

Plays and saves fine.
New Super Mario Bros.
-

PROBLEMS:

Plays and saves fine. Mini games section works fine. Download play doesn't work.
Opera Browser for Nintendo DS
-

PASS:

Plays and saves fine in conjunction with RAM pack. The M3 and Supercard hacks work just fine too.
Pokémon Dash
-

PASS:

Plays and saves fine.
Pokémon Diamond/Pearl
-

PASS:

Plays and saves fine.
Rafa Nadal Tennis
-

PASS:

Plays and saves fine. No crashing in menus.
Resident Evil DS
-

PASS:

Plays and saves fine.
Rockman Exe 5
-

PASS:

Plays and saves fine. Intro plays at full speed.
Sonic Rush
-

PASS:

Plays and saves fine.
Super Mario 64 DS
-

PROBLEMS:

Plays and saves fine. Download play doesn't work.
Tetris DS
-

PASS:

Plays and saves fine. Download play works.
The Rub Rabbits
-

PASS:

Plays and saves fine.
Tony Hawk's American Sk8land
-

PASS:

Plays and saves fine.
Tony Hawk's Downhill Jam
-

PASS:

Plays and saves fine.
Ultimate Spider-Man
-

PASS:

Plays and saves fine.
Viewtiful Joe
-

PASS:

Plays and saves fine.
Yoshi's Touch & Go
-

PASS:

Plays and saves fine.
As you can see, the R4 DS has very impressive results in the performance testing. Everything we've tried has worked perfectly, and with zero slowdowns. Something that is unmatched on the flash kit market. Even the infamous benchmark games like Castlevania DS and Rockman Exe 5 run at full speed, even on a fragmented card!
All games save properly, even games with 2Mbit save types. The R4 DS, if a save doesn't already exist for a game, will prompt you about auto-creating one when selecting a game, and will create the .SAV file on the card. .SAV files are always 512KB in size (4Mbit) regardless of a ROMs specific save type.
From what we've experienced and from what we've read, the R4 really is 100% compatible with all DS ROMs. But only time will tell whether this will remain true or not.
Download Play / Single-cart Multiplayer
Download play or single-cart multiplayer is a feature in some DS games to allow a multiplayer game, or the sending of demos to a receiving DS that doesn't have a copy of the game cart. This feature normally works on flash kits when sending to a DS that has had the FlashMe firmware replacement installed on it, but rarely works when sending to un-flashed DS units.
As you can see in the ROM compatibility list above, we have tested download play on a large majority of games on the R4 DS and the results were varied. Now, the R4 team never specifically mentioned download play being a supported feature on their cart, so we weren't surprised to see the majority of games do not support download play, but it was a pleasant surprise to a couple of games that do work with it.
Hopefully the team will add support for download play into future firmware revisions, if possible.
Battery Life Results:
Test condition:
Fully charged European Black Nintendo DS Lite
R4 DS, Sandisk Ultra II 1GB formatted with FAT32.
New Super Mario Bros. Running Main Menu and movie looping continuously
Screens at max. brightness (level 4)
Sound at 100%
Results:
Backup ROM of New Super Mario Bros. on R4 DS = 4 hours 20 minutes
Retail New Super Mario Bros cart = 4 hours 55 minutes
Homebrew Support
Now we'll test some popular homebrew applications on the R4. Normally specific support has to be written into a homebrew application for it to be able to support a particular flash cart. Apparently the R4 team have released their "FAT lib", so we should see support added to most homebrew eventually.
All homebrew tested is the latest stable version and has been downloaded straight from the developers website and has not been modified.
BeUp-

PASS

DS Wi-Fi Chat-

PASS

NES DS-

PASS

DS Linux-

PROBLEMS

Loads but doesn't support file system.
DS Doom-

FAIL

Cannot find doom.wad
Snezzi DS-

FAIL

SNEmulDS-

FAIL

NDS Mail-

FAIL

Picodrive DS-

FAIL

Stella DS-

FAIL

ScummVM-

FAIL

snesDS-

FAIL

DS Organize-

FAIL
As you can see, homebrew support is pretty much as expected. Any homebrew that relies in reading files from the file system will simply not work unless the homebrew author has written in R4 support. Applications that use only one single .NDS file are more likely to work such as BeUp or NESDS with an appended ROM.
I should note that a couple of homebrew applications such as SNES DS wouldn't even load from within the R4s menu. The progress bar stayed at 0% and incremented by about 1% every 10 seconds, which is a sure fire sign that the program isn't going to run.
Additional Features
There aren't many extras on the R4 DS. Besides Moonshell and the option to boot to a slot 2 device within the main menu, there isn't anything else to find on the R4 DS in its current firmwares state. As I've said numerous times already, there's no reason to cover the features of Moonshell in this review as it's a homebrew application that isn't unique to the R4.
So let's take a look at the slot 2 boot feature. Why would you need this option to boot slot 2 flash kits from within the R4 DS menu? Well, if the firmware on your DS isn't flashed, then you would normally need some kind of PassMe device to boot the cart in slot 2 to start it in DS mode. So instead of the R4 forcing you to have your own PassMe, as well as the R4, and having to remove the R4 from your DS to switch with a PassMe to use your slot 2 card, they have added a PassMe feature which will prove useful for a large majority of people (keeping in mind slot 1 devices currently have no way of running GBA ROMs).
I have tested compatibility of the PassMe feature with the following slot 2 flash kits. Here are my results:
M3 Adapter (Full size SD) -

PASS

M3 Adapter (Lite/micro) -

PASS

Supercard (Full size SD) -

PASS

Supercard Lite -

PASS

Supercard Lite Rumble -

PASS

eWin 2 series -

PASS

EZ-Flash IV Lite -

PASS

G6 Lite -

PASS
The PassMe function works great from our testing and is a nice little addition.
Conclusion
The R4 DS is a slot 1 DS flash kit designed to play ROMs. I may be stating the obvious here, but the point is; that's what it's meant to do, and it does it very well. From our extensive testing, so far we can confirm that the R4 DS is 100% compatible and doesn't suffer any slow downs in game. A very impressive result! (As with all flash kits, the claim of 100% compatibility may change once and IF an incompatible game is discovered).
That said, the R4 DS GUI is somewhat plain and generic. You get the feeling that they didn't really put any effort into the GUI and that it was just a quick last minute design when you compare it to rival carts GUIs such as the DS-Xtreme or NinjaDS. The fact that they put the directory/file list on the top screen, and then say you can navigate the GUI from the touch screen is laughable.
So far the current firmware seems to do the job well, and until an incompatible game is found, the only firmware updates I expect we're going to see (and HOPE we're going to see) are those that add new features within the GUI, or even complete overhauls of the GUI to a more modern and intuitive interface.
Hardware wise, the build quality of the R4 DS is top notch and the fact you can remove the micro SD from the R4 without removing the whole cart from the slot is great. They even bundled the R4 with a couple of nice extras, the keyring cart case, the USB micro SD card reader and alternate colour shell are great little freebies that help further justify the price tag which is already very affordable.
If you're looking for a flash kit with a ton of extra features and options to customise it in every possible way to your hearts content, then unfortunately the R4 DS will not satisfy you. It really doesn't offer any extras besides a main menu icon to boot a compatible version of Moonshell, and a PassMe feature. But, if you're looking for a slot 1 flash kit with unlimited storage capacity (depending on the contents of your wallet), 100% ROM compatibility, complete "drag 'n' drop" ease-of-use and don't plan on expecting much more from the cart, then I can definitely recommend the R4 DS as your solution.
Pros
+ 100% ROM compatibility (from current tests)
+ No slow-downs or glitches in game (from current tests)
+ Completely drag 'n' drop, no software needed
+ Supports clean ROMs
+ Expandable micro SD memory solution
+ Supports FAT and FAT32
+ Great build quality
+ Fits flush in your DS
+ Nice freebies in the package
+ Fairly cheap!
Cons
- Basic, dated GUI
- Lacking extra features
- English firmware updates slower than Chinese
- Low homebrew compatibility
- Lacking download play support
Update - 6th April, 2010
The R4 is one of the earliest slot-1 flashcart. While it has become extremely popular, even to the eyes of the general public, the obvious lack of support that its team has shown over the past few years has rendered the cart obsolete. In fact, it is rumored that the team has been dissolved and that no further system updates will ever be released. In practice, this implies that the newer games that include advanced anti-piracy protection systems will never be playable on the R4 carts... unless you decide to switch to an alternate OS such as YSMenu or better and soon to be released: MENUdo. In light of these new facts, we have decided to amend our review and deliver the R4 flashcart family the
Bronze Award
.


Attention all visitors:
Interested in a DS flash kit and looking at reviews? Please be aware that the R4 DS is an out-dated flash cart and support has been dropped from the manufacturer.
Please take a look at our
GBAtemp Review Portal
for full written reviews of the newest flash kits.
External Links:
-
Official R4 DS English/Chinese Website
-
English R4 DS Website Mirror
This review was written for GBAtemp.net ONLY. The article and all included photos are property of GBAtemp.net
If you see this review on any other site please let me know via e-mail - shaunj66 [@
[email protected]
] GBAtemp [.dot.] net