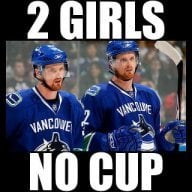 Joined

Nov 9, 2007
Messages

2,937
Trophies

0
Age

36
Location
XP
Country
http://sync.sympatico.ca/news/quebec_spamm...k_873m/b9113566
Quebec spammer must pay Facebook $873M
CBC News
A Quebec man has been ordered to pay Facebook $873 million US after he bombarded its members with explicit spam messages.
The Quebec Superior Court has upheld a U.S. court ruling that ordered Adam Guerbuez and his company, Atlantis Blue Capital, to pay damages to the social networking giant.
In her Sept. 28 ruling, Quebec Judge Lucie Fournier ordered Guerbuez to pay $100 US in damages and $100 US in punitive damages for each of the 4,366,386 spam messages he sent to Facebook users in 2008.
Fournier also forbade Guerbuez from having a Facebook account or being involved in any way with the social-networking site ever again.
Guerbuez sent more than four million messages to Facebook users, praising the use of marijuana and drugs for erectile dysfunction.
Some of the messages contained sexually explicit material.
Facebook filed a civil case against him, and a California court ruled in 2008 that the Montreal man had violated U.S. electronic commerce laws. The court ordered him to pay $873 million US in damages.
The company then pursued Guerbuez to Quebec, where he lives, filing a motion in Quebec Superior Court asking it to recognize and enforce the U.S. ruling.
His lawyer, Éric Potvin, argued the damages were too excessive to fall under Quebec jurisdiction, but the judge disagreed.
Guerbuez filed for bankruptcy
Potvin said his client was disappointed by the latest ruling, but not surprised.
He said Guerbuez has filed for bankruptcy.
"The debt [to Facebook] will be part of his bankruptcy and paid with all of the other creditors," Potvin told CBC News.
Guerbuez wrote on his personal website Tuesday that he has been flooded with interview requests and planned to hold a news conference on Wednesday.
Facebook has previously said it hoped the case would discourage future spammers from using its site.
God, you have no idea how much I loath spammers and I have zero sympathy for this asshat. Now to just get rid of all the Chinese gold spammers in World of Warcraft and all the spammers on web forums and things will be good.