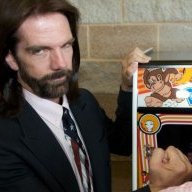 Active Member
OP
Newcomer
Joined

Dec 20, 2017
Messages

28
Trophies

0
Age

38
XP
Country
I was browsing through some old posts here on GBA Temp the other day when I came across one which talked about why you shouldn't put your info in any roms you dump (I agree, just an all around dumb idea). I was more focused on the discussion about Ninty's overall policy on piracy and their anti-piracy practices. The post discussed Ninty's Anti-Piracy policy and linked to the official website for Ninty which discusses it (
https://ap.nintendo.com/index.jsp
). I am now starting to wonder just how much they truly do care about piracy. My, or your, view on piracy aside, here's what I learned.
Besides being a very minimalist site, when compared to their main
www.nintendo.com
homepage, it is extremely out of date and not well maintained at all. See below.
-Under the "Internet Piracy" section the latest systems they talk about are the DS and the Wii. No Mention of 3ds, WiiU, or the Switch.
-The pictures for the "Game Copiers" are some extremely old and outdated flash-carts. Many of which are in GBA format.
-They discuss Mod Chips for the original Wii console. These were popular BEFORE the Letterbomb exploit which goes back to 2011. (Source:
https://web.archive.org/web/20110923163514/http://please.hackmii.com:80/
)
-The link for the Mod Chip page goes to the same page as the "Game Copiers". The link is incorrect (Correct link:
https://ap.nintendo.com/detect/photos/category.jsp?categoryId=2
).
-They have a section discussing Warez release groups. Since the advent of torrents, I don't know of many Warez sites out there anymore nor too many teams who are still making it a profession to run Warez sites.
-Under the "How to detect>Photos" section, the consoles they mention are, again, extremely out of date. For Handhelds, the latest is the DsiXL.
-Also under the "How to detect>Photos" section, for examples of "genuine packaging" we have two games: Pokemon Pearl (released in 2006) and Mario Kart DS (Released in 2005).
-The Report Piracy section seems to be set up only for physical products. There is no way to report online piracy which is, by far, the most frequent type of video game piracy.
-
The "News" section is "flooded" with a whopping 1-2 posts per year for the last 8 years. Those posts seem to be really focusing on those who create the ability to pirate (r4 cards/fake consoles) more so than those downloading and/or uploading games.
-The most up-to-date section on their page discussing piracy is nestled in the News section under "Special 301 Filings". It has some updated info about torrents and the like however, the most recent posting in that section is from 2014.
-Nowhere on the site does it mention obtaining legal copies of the games from Ninty's servers through illegal methods (ie. FreEshop).
-The "Highlights" section under the News tab, has "Highlights" in the war against piracy that seem to be released once at the end of every quarter. Browsing over these, it seems that they are going after retailers or manufacturers of "3ds circumvention devices", "counterfeit Switch products", and "counterfeit amiibo cards". (All of which are sold in thousands of places online and are nearly impossible to stop).
Another point to take in, many of the games that are being copied and released are not truly owned by Ninty. The rights to many of those games are owned by the publishers so, Ninty couldn't care less about going after the pirates. They are only going to worry about their bottom line.
Also, for the games which are no longer being manufactured, who is there to enforce the copyright? The company who created the game is no longer selling it therefore they have no monetary interest in wasting money taking you to court protecting the copyright. It would cost them all kinds of money to get a cease and desist order, coming up with proof as to how much money they lost out on due to your actions, and then take you through the preceding to get a judgement. That is a timely and expensive process that is rarely (if ever) seen on older games (especially for discontinued consoles) now-a-days.
After it's all said and done, it looks like Ninty is really focused on those who are creating avenues for pirates (manufacturers/retailers), rather than those who are going through the trouble to rip a copy of "Snake Rattle and Role" to share online. Can you be caught? Sure. Can you have litigation brought against you for it? Of course. Can you lose and end up in a lot of hot water? Yeah. Will you? Probably not.
I don't want to get into the discussion of "is piracy ethical or not", that conversation has been had thousands of times here on GBA Temp. But really, if anyone has anything to add to the discussion, if I missed anything, or if you disagree. Am I just being naive in thinking Ninty is slacking on their Anti Piracy tactics? I'm interested to see what everyone else has to say.