Well-Known Member
OP
Newcomer
Joined

Dec 26, 2020
Messages

65
Trophies

0
Age

115
XP
Country
Hello,
I was doing some testing on the Switch to find the alternative points to match the back.
@mattytrog
did the pin out for the front some time ago, but we never had a pin out for the back. I have found the black, blue, pink and orange pins.
@pyorin
Was able to correctly identify where the purple, yellow and brown/burgundy pin goes and has checked all of them too. Due to this, we now have the correct pin out.
Also
@MatinatorX
has identified the actual part (Molex - Motherboard) to be 5042081610. It is always best to try and replace the actual part, however, if that isn't an option then you have this. I've combined, most of the threads with confirmed working points together as they are quite a few on the site.
This thread now has the complete pinout for the front and back pins.
@pyorin
Has confirmed the points and has checked them and has added the correct allocation of the purple, yellow and brown/burgundy pins.
This is
@pyorin
complete pinout of the back, it shows additionally where the back points lead to. So you now have even more options of deciding where to solder to.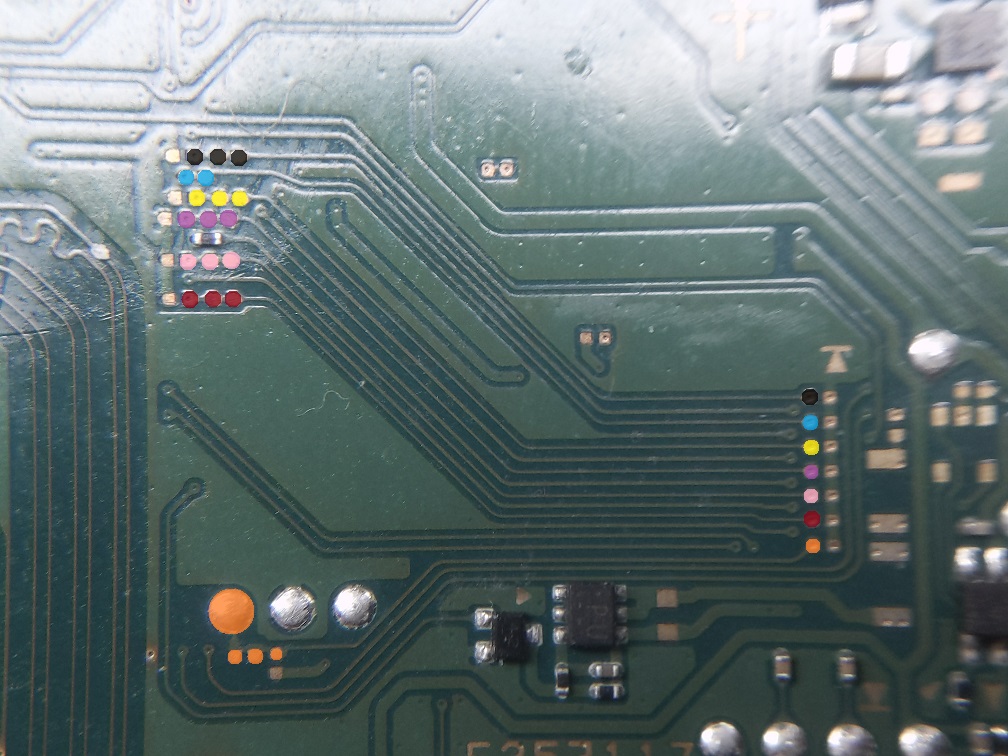 @MatinatorX
Also added the pinout for the molex to all the corresponding pins to the SD card below:
Also, found
@MatinatorX
repair video. I've taken the image from the video and added
@MatinatorX
pinout to the board without the molex connector. This way you can tell where every single pins go and have a clear idea:
Close up of
@MatinatorX
repair showing no pinout, shows you where every single trace goes:
Also this diagram below is from
@mattytrog
so if you still have the points on the front you can use it them. If you did manage to tear the front test points, the link to the back and you can follow my diagram above:
Credits:
@mattytrog
- Supplying the original pin out for front points that has helped many
@MatinatorX
- Supplying pinout of the molex connector and replacement part
@pyorin
- Finding the missing point and correcting the diagram