Nintendo disappoints fans: 3DS was an April Fool
That explains a lot
Ever wondered why Nintendo revealed its new console, the 3DS, a week before April 1st? Well it turns out it wasn't just a coincidence. In a press release issued this morning, 8am (UTC+9:00), Nintendo officially announced that the 3DS was an
April Fool's prank
.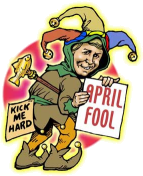 "We have no intentions of jumping into the market of 3D gaming. In fact, we have no plans to release another handheld video game console for another couple of years. The Nintendo DS has sold over 125 million units worldwide as of 2010. We apologize to our fans [...]"
, said Reggie Fils-Aime, current President and CEO of Nintendo of America.
Well, what a disappointment. We're going to have to remove our newly created
Nintendo 3DS forum
which has been on fire lately. Bad, bad Nintendo!

 Press release:
http://www.nintendo.com/press/2010-04-01-3DS-April-Fool/

Discuss
UPDATE:
we apologize to everyone for this lame reverse-april fool! The 3DS is real and we wish Nintendo a massive success with it. We love you, Reggie.