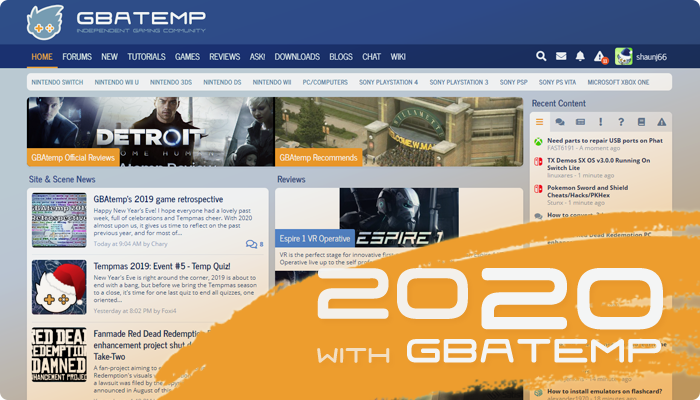 tempStyle v3
​
What's this!?
Welcome to GBAtemp (v7)!
​
We are
storming
into 2020 with a brand new look! We've made quite a few changes and tweaks to make GBAtemp an even better experience across the board! We've gone and trawled through every corner of GBAtemp to bring a more cohesive and streamlined design to every inch of the site! So please feel free to take a look around and get accustomed.
Dark style user
?
Fear not!
Dark and black versions
of tempStyle 3 will be available...
immediately
! Yes, that's right - dark and black mode themes for tempStyle 3 are ready to go. But that's not all...
We'll talk more about the new style in a moment but before we get too deep into the new look, let's take a quick look back at GBAtemp during 2019. This was a great year for GBAtemp with many new faces joining and new site features to boot!
---
GBAtemp in 2019 - A Recap:
We kicked 2019 off with our first official review of the year, which was
Dynasty Warriors 8 Xtreme Legends Definitive Edition
for Nintendo Switch, which scored a hearty 8.5. A massive 200 reviews were written by our staff, breaking all prior yearly records. Of course, those lofty heights wouldn't have been able to have been reached, without the new additions to our magazine staff!
@relauby
,
@RattletraPM
,
@KiiWii
, and
@Ericzander
all joined the orange team in 2019, and we appreciate all the content they've written this year!
The writing staff also re-re-rebooted
GBAtemp Recommends
yet again, with entries for
The Classic Fallout Series
(which was even
endorsed by the Fallout series creator Brian Fargo himself
! How exciting!),
The Danganronpa Series
,
Silent Hill
, and just recently,
Dead Rising
.
April saw us
do some foolin'
using the newly announced Stadia platform as bait and dropping truth bombs with
Gaming Perfection: Bubsy 3D
.
Fast-forward to June, and we see
@Chary
take her yearly trip to E3 with a ton of coverage and media! This year's expo brought us news regarding Animal Crossing: New Horizons, Breath of the Wild 2, more information on the long-awaited Final Fantasy VII Remake, and memes abound, with the reveal of Keanu Reeves starring in next year's Cyberpunk 2077.
It was during E3 that Nintendo announced that
not every Pokémon would be available in Pokémon Sword and Shield
, disappointing fans, and turning Sword and Shield's pre-release speculation into a dramatic event that shook the internet for months.
Another milestone happened when we revived the beloved shirt sale, and
launched a GBAtemp merch Redbubble store
. There was even a contest for our users to create their own shirt design, and submit it in a contest.
@CeeDee
,
@Jiehfeng
, and
@Dr.Hacknik
managed to create some hilarious and snazzy-looking pieces of clothing!
30 new issues of
Temper Tantrums - the GBAtemp webcomic
were published, from our lovely team of artists, such as
@x65943
,
@Sushiru_River
,
@WhiteMaze
, and more!
Nintendo's online offerings
continued to disappoint
, with paid online services still being outclassed by homebrew such as LAN-play and RetroArch. Do you think we'll see Nintendo Switch Online improve in the new year?
Something that fans had been waiting months for had been achieved in December, as Nintendo Wii U emulator
Cemu was updated to v1.16.0, introducing the Vulkan renderer
benefiting AMD users everywhere. This emulator certainly has come a long way! Congrats to the Cemu team!
We also
added a new Developer role to the site
to help respect and bring attention to the hard-working people that make this scene what it is. Thank you, for all your contributions to the scene!
Topping things off, in November we added one of the biggest GBAtemp features yet -
the GBAtemp Game Center
, cataloguing over 122,000 games! Not only does it allow users to easily mention games within threads, but it also features a weekly release date calendar, game ratings, and a wide variety of information, all available directly on GBAtemp itself!
Also, don't forget to try your luck in the last of
this year's last Tempmas event
for a chance to win! You can't go wrong with a chance to get free stuff!!
---
As always, thanks for being with us at GBAtemp and please enjoy the new styles. If you're a member, and if you're not already registered; what are you waiting for? Go and
register an account
to join the GBAtemp community and enjoy the perks of the temp life!
You can read more about tempStyle 3 in the post below.
From all the staff at GBAtemp, we wish you and your friends and family a
Happy New Year 2020!
-
GBAtemp Staff